The Nokia Lumia 1520 was crowned "Best gaming device" at the beginning of the month but yesterday the HTC One (M8) stole that title and an even bigger one – it reached top place on Basemark OS II, which is an overall benchmark.
That didn't last too long though, as less than 24 hours later the Sony Xperia Z2 displaced the One (M8) at the Basemark OS II bench. The two scored identical in the CPU and GPU test, but faster memory performance helped the Sony smartphone reach the top spot.
The Xperia Z2 is currently third in the gaming benchmark, but an update could push it forward – after all the M8 and Z2 use the same chipset and display resolution.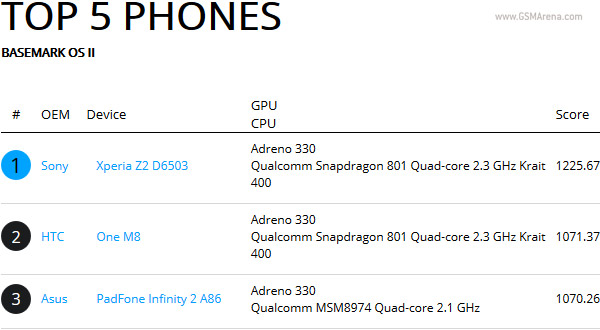 Web browsing also might see an improvement, since the Xperia Z2 is currently 7th, behind the Xperia Z1 at 6th place. The Sony flagship isn't officially available yet so such improvements are normal as the software reaches completion. Also, Basemark OS II, X and BrowserMark 2 are separate apps and a result in one doesn't update the others.
Anyway, how long with Xperia Z2 last? The Samsung Galaxy S5, which has faster CPU is the likely phone to top it, though the Sony's 3GB RAM might be enough to keep the Z2 in front.
A
z2 is probably the best in this catagory, antutu scores looks good, just waiting for its release in india !!!
D
Samsung Galaxy S5 got 8th position on that same test with less than 1000 point. So Sony Xperia Z2 is actual winner it will take another flagship from Samsung to dethrone Z2.
D
I bet when s5 is released it will kick all rest in benchmarks like before years. Then LG will come and kick all again. Then Note line will follow. Yet to me best phones are still note3(best feature-phone I suppose), one m8(I have unstoppable sympathy...