At Sony's IFA press event at the beginning of September, we were so far expecting to see the Xperia Z3 debut alongside the smaller Xperia Z3 Compact. These smartphones have been leaked a few times already, so they're definitely coming - and given Sony's usual release cycle, the IFA event fits for their announcement.
Now though it looks like a new tablet may join those two in Berlin next month. A Sony support document for an accessory (a Bluetooth speaker with a charging dock, in fact) lists the Xperia Z3 Tablet Compact as being compatible.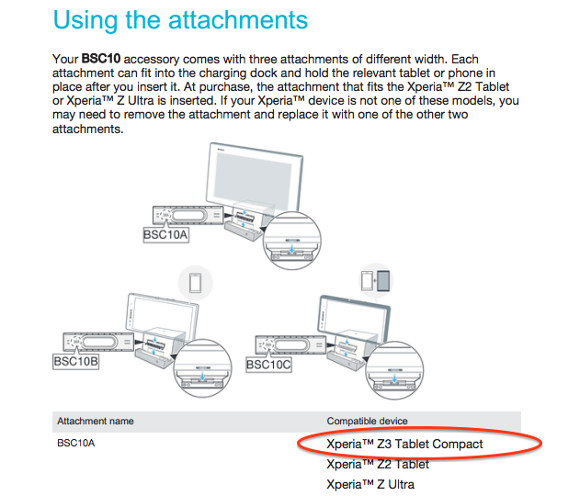 So it seems like Sony may finally be entering the small tablet space, after a few iterations of 10.1-inch flagship slates (the latest being the Z2 Tablet).
Although no information is known about the Z3 Tablet Compact just yet, we assume it will come with a 7" or 8" Full HD touchscreen and specs very similar, if not identical, to those of the Xperia Z3 and Z3 Compact smartphones.
Hence, a Qualcomm Snapdragon 801 chipset could be running the show, aided by no less than 3GB of RAM. The rear camera of the tablet may very well be downgraded, though, as a 20.7 MP snapper on such a device makes little sense.
The incredible success in terms of sales that small tablets have enjoyed over the past few years have already forced Apple into the realm, and now Sony may be preparing to follow suit.
?
10 inch tablet no thanks, minimal 14 inch tablet, Tegra K1 and 4 GB RAM
?
What's next, the Z4 Tablet Compact Ultra? JK, this is really nice :D
D
I Like the feel and quality of Sony's latest high end devices. I have a Z1 from last year and it's a solid but beautifully crafted piece. it's like a finely crafted watch with it's metal bezel sandwiched between two sheets of Dragontrail chemically s...