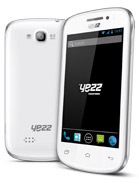 D
My mom hi Have Yezz Andy C4E his android jelly beam 4.2.2 The ram worst İs working slow and you cant play some games the camera really bad and application is so laggy working.And thats is not good phone.İ recommanded with 1GB ram the 512mb ram not good
D
Worse phone tested:
-bad quality for audio calling, distorted
-extremely bad camera for low light shot
-i miss some calls when telephone refuse to ring
-occasionally i have lost the gsm signal
-display with low view angle, TFT not IPS!
-1550 mAh battery with a reasonable long life, 12 hours tested and used 40%.
-good WI-FI connection but chrome, preinstalled, works slow...
-GPS - not tested
-On last Antutu obtained a 12500 score.
I've returned the phone in 24 hours. Bad chinese mobile, not reccomended!
e
I have been using this phone for more than a month and I find it very useful for calling and browsing. I have Galaxy S5 which I love for games and apps but this one I usually bring in the gym or when cycling as it is much cheaper and I am not afraid to break it - already dropped it few times and still working :).

?
yezz is good phon .........avry day
g
descent specifications ........but 512mbRam is less
Total of 5 user reviews and opinions for Yezz Andy A4E.