If you are looking into getting a new action cam, you may have heard people talk down the Chinese-made action cameras for failing to deliver the same level of features or quality as GoPro. But the GoPro action cameras remain premium products with a premium price tag. So whenever a new, cheaper contender rises in China, we can hardly wait to set up a match and see if this is the One to dent GoPro's shiny armor. And in the case of the Yi 4K Action Camera, it didn't take a while before we realized we might have a winner there.
Last year Yi Technology, a sub-brand of Xiaomi, launched the Yi Action Camera, which was a cheap GoPro knockoff that wasn't very good.
This year's Yi 4K Action Camera, however, is another story. Not only does it shoot 4K video but it does so with excellent quality, an intuitive UI and it even has a viewfinder touchscreen on the back. And did we mention it only costs $250?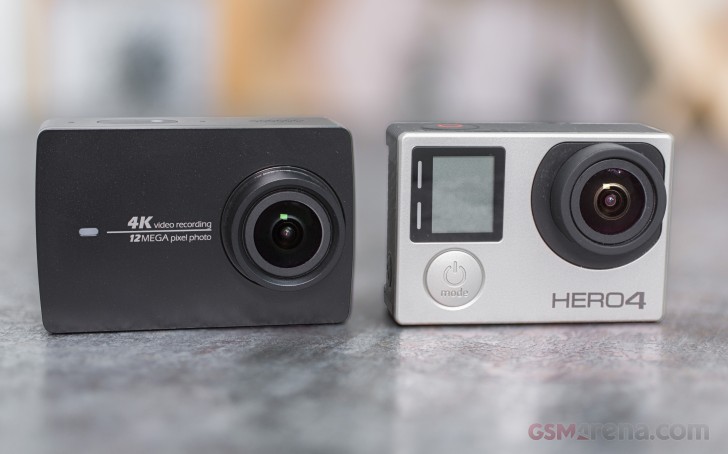 The Yi 4K Action camera is a tremendous leap forward compared to its predecessor. The sensor is a new 12MP Sony unit that delivers 4K video at 30fps compared to last year's 1080p. There's also a 1080p@60fps recording mode, as well as a 720p setting, which offers even higher framerates of 120fps and 240fps.
Another key upgrade is the touchscreen on the back. Last year's model lacked a display, and so does GoPro's top 4K-capable Hero 4 Black. This puts the Yi 4K Action camera right in-between GoPro's Hero 4 Silver and Black cameras feature-wise - bringing the best of both devices into a much cheaper action camera body.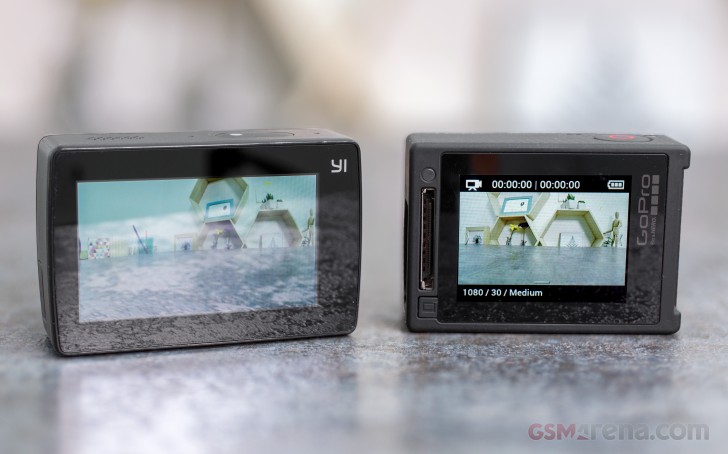 At the time of writing the Yi 4K Action Camera costs just €234 compared to the €380 GoPro Hero 4 Silver that has a touchscreen but no 4K video recording and the €440 Hero 4 Black, which has 4K video, but doesn't have a screen.
The Yi camera has a few more aces up its sleeve - it packs a larger battery that promises twice the recording battery life (up to 120 minutes of 4K action), and it also packs dual microphones, 5GHz Wi-Fi connectivity and electronic stabilization for 1080p@30fps videos.
Granted, the Yi 4K Action Camera is bigger than both its predecessor and the mentioned GoPro cameras, so it's not able to fit into any of the cases of these two. The new camera also doesn't include any mounting accessories in its retail box so make sure you purchase some separately - a quick search revealed there's plenty of affordable gear to be found online.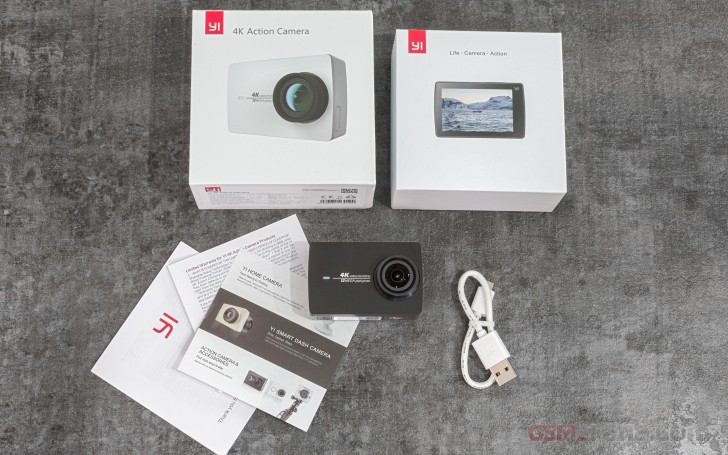 Another big positive for us is that the Yi 4K Action Camera has a standard tripod mount built in its body whereas with the GoPro, you can only mount it on a tripod if you have a case on.
The interface of the 2.19" screen is very responsive and easy to use. It's so intuitive that you wouldn't believe it. Some say that it's a rip-off of GoPro's UI.
You can quickly circle through the shooting modes, and once you have a mode opened, you can easily set the shooting parameters through the settings menu.
Yi also supplies an app for iOS and Android that allows you to control the 4K Action Camera remotely from your phone or tablet. Similarly to GoPro's app, Yi Action has a social network element to it - you can share your Yi 4K Action Camera content, see and follow other people's work wirelessly from your phone.
So how good the Yi 4K Action Camera is in reality? It's very good. The camera produces sharp and contrasty videos which are fluid and smooth. It's quick to adjust exposure as you move around while recording and the colors are always warm and punchy. The footage from the 135-degree f/2.8 lens always looks tack sharp too.
Regarding 4K video, you have the option of either 4K@30fps or 4K@30fps Ultra, with the latter having a wider field-of-view but has more geometric distortion. We preferred shooting in the regular 4K setting as it wasn't as unnaturally distorted.
Whatever your preferred resolution, the Yi 4K Action Camera always records an 848x480px video concurrently with your regular high-quality HD track, so you have an easy way to share quickly the footage you just took.
We compared the Yi 4K Action camera to a GoPro Hero 4 Black by shooting a few videos alongside, and we were amazed to see that the footage by the Yi 4K footage is sharper when inspected from up-close.
The Electronic Image Stabilization of the Yi 4K Action camera is only available at 1080p@30fps but does make a huge difference. We tested it while the camera was strapped to a car and with EIS turned ON; you can barely see the vibrations. Check out the comparative samples below.
The final available video mode on the Yi 4K Action camera is 2.5K (2560 x 1920px), which benefits from the option for Adjusting the lens distortion. When you turn it on, it provides a wider field with less distortion than the standard mode.
Video aside, you can also shoot Timelapses with the new camera. The Yi 4K Action Camera can capture images at intervals from 0.5 to 60 seconds, and you can choose how long you want the video to be. The highest resolution for a timelapse video is 4K if you want the camera to make it for you, but you can also offload the individual photos in 12MP resolution to render the time-lapse yourself.
There's slow-mo video at 720p@240fps, but it's not worth it as the video quality is quite low.
You can also capture 12MP stills with the Yi 4K Action Camera, which aren't too impressive compared to the photos taken by the smartphone you probably already have in your pocket but they have the significantly wider field of view going for them.
Battery life was solid on the Yi 4K Action Camera. It easily beat our GoPro Hero 4 Black and continued to shoot after the latter had given up.
Final verdict
Whichever way we look at it if you're in the market for a 4K action camera, getting the Yi 4K Action Camera is a no-brainer. For one, it's much, much cheaper than GoPro's top cameras. There is also a reasonable variety of accessories at great prices online. If you are not going to get it wet, it can even do without a case as it has a regular tripod mount built-in. What's more - its performance is brilliant - the footage is fantastic, having the touchscreen is invaluable for the user experience and the battery life is as great as it should be.
However if you've already bought into GoPro's ecosystem of accessories, they would be no justification to jump ship unless you want a nifty backup camera to your regular GoPro. You'll probably find yourself using it more often than the GoPro itself.
Special thanks to GeekBuying.com for providing the review unit. Shop on Amazon.
A
GoPro is my favourite camera to travel. It's light and the videos are always good under good lightning condition. I like to take with me the pole accessory because I can use it in different occasions. I have an experience to buy GoPro Camera, top Pho...
N
Noise Play is Very Good Action Camera .
N
Yi 4k Action Camera is pretty good but Noise Play Action Camera yet preety good