The upcoming YotaPhone smartphone will feature a rear-facing E-Ink display to compliment the LCD display on the front of the device.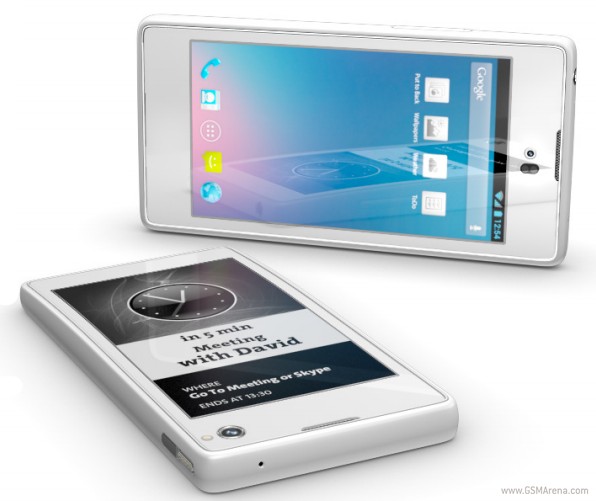 With E-Ink's ability to display notifications and such at very little energy cost, the YotaPhone claims to increase battery performance by as much as 50%.
Both displays will have a 4.3" diagonal and Gorilla Glass protection. The LCD resolution will be 720 x 1280 pixels, while the E-Ink will have a density of 200 dpi.
A dual-core 1.5GHz processor will power the YotaPhone, alongside 2GB of RAM and 32/64GB of storage (no microSD though). It'll all run on a 2,100mAh battery, and there's even LTE connectivity and a 12MP shooter (plus 720p front-facing unit) as well.
Two displays might theoretically increase the overall thickness when compared to a single-screen device, but Yota has managed to keep it less than 10mm thick, with a weight of just 140 grams.
No word yet on pricing or availability, but Yota has confirmed its participation at MWC this coming February, so expect to hear more about the YotaPhone then.
?
this phn looks really kool and think it with be a big seller. can't wait to get my hands on it. im a samsung fan. but this phn is really going to give samsung a run for their money :-)
K
Looks like an iPhone..Wow!!!
D
This is way better/cooler than any Samsung! :D
ADVERTISEMENTS