WhatsApp is testing a few features on Android (possibly on other platforms too) to let you cancel a text that hasn't been received yet, share your real-time location with chat friends and even a Snapchat-like disappearing post.
According to beta testers a new Revoke option will let you cancel the sending of a message if it hasn't been received or has been delivered but the other person hasn't looked at it yet.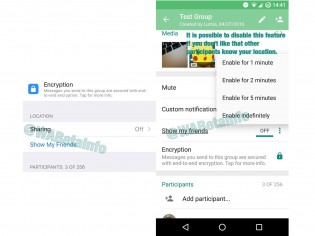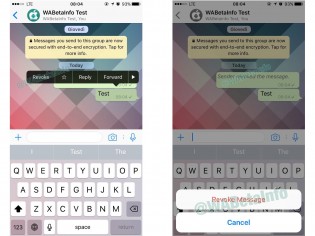 WhatsApp features in testing
The other feature in testing is real-time location sharing. We've already reported on it a few days ago. If enabled you'll be able to share your location with trusted people for 1, 2, 5 minutes or indefinitely. This will also work in group chats.
Finally WhatsApp is in testing of a feature similar to Snapchat's Stories. You could add a photo with a caption or a doodle and it will disappear in 24 hours.
It remains to be seen if any of these new features will make their way to WhatsApp.
D
It is must for people like me who have a WhatsApp based business. This will stop people from posting in appropriate stuff in the group.
D
yeah I get that, just in general though most of whatsapp's updates have been used to make changes that compare with snapchat, but yeah wish snapchat had this too tbh
?
I agree the beauty lies in the simplicity of what's app. .