OnePlus will finally make its limited edition Midnight Black 3T available to everyone in Europe, Hong Kong and North America starting tonight - March 28.
People in Europe and Hong Kong will be able to order a black 3T starting 0:00am BST while people in North America starting 0:00am EDT.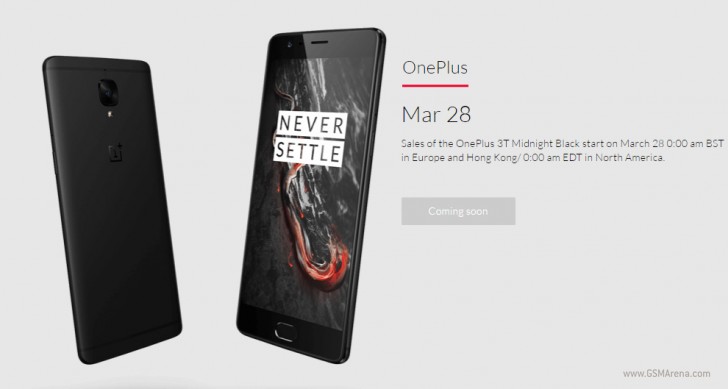 If you live in those areas and would like to get a Midnight Black 3T you'd best be quick about it as supply is expected to be low.
OnePlus did have 250 exclusive Midnight Black 3T's in a colette store in Paris and a special sale through Hyperbeast on March 24.
The reason the Midnight Black OnePlus 3T's are so exclusive is the process of painting the "space-grade" aluminum. OnePlus applies a 14 micron-thick coating three times and then applies an anti-fingerprint layer. This process naturally takes time.
The price for the Midnight Black OnePlus 3T is the same as the Gunmetal 128GB model.
Believe it or not, the OnePlus 3T now costs more than flagships. Tmobile has ran a $100 off S7 Edge and S7 making them $499 new. They are $300 refurbs now on swappa.
Even though the phone is about 4 months old with the November release, this is still a pretty good buy for the under $500 price tag, and people will still buy it even with a color change. Besides, I'm honestly believing OnePlus is doing not just for ...
It's literally in front. Prices have changed. Hard to be a "flagship killer" when (at the same price) you have no local support centers across the globe, little to no accessories in local shops worldwide and even in the best of lights your flagship...