The scandal with Cambridge Analytica might have been bad for the popularity of Facebook, but shareholders should have to start worrying, because the social network is on track to lose its top spot to YouTube in the United States, according to research by SimilarWeb.
The data, reported by CNBC, showed that Facebook monthly visits in July were 4.7 billion, while YouTube recorded 4.5 billion views. In a two-year span, the video platform kept its traffic results at over 4 billion, while interest in Facebook decreased nearly twice in two years.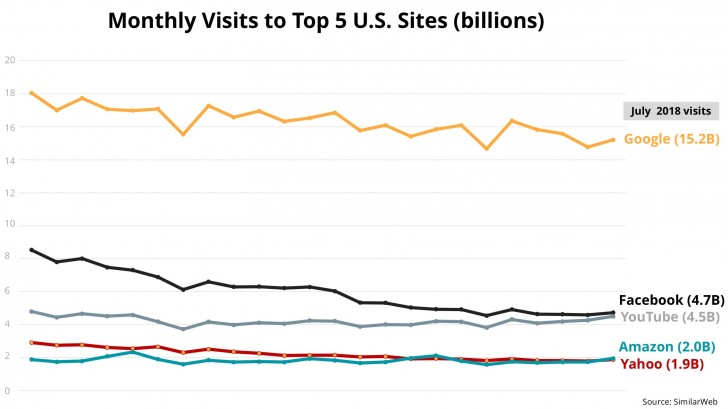 The research is based on the five largest sites in the United States - Google, Facebook, YouTube, Yahoo, and Amazon. The latter two are on track to switch places, although the change is not as drastic as the battle for 2nd place.
Google remains a massive leader with more visits than the following four websites combined, due to its search functions. The analysis pointed out that visits to the website declined mostly because people are now relying on different platforms like voice and apps search, but are still loyal to the Mountain View company.
Facebook has been growing in plenty of markets abroad, but the domestic scene looks terrible for Mark Zuckerberg and company. Users are now spanning their visits and time on multiple platforms of the company like Messenger, WhatsApp, and Instagram where an average user spends 56 minutes a day, up from 27 minutes a year ago.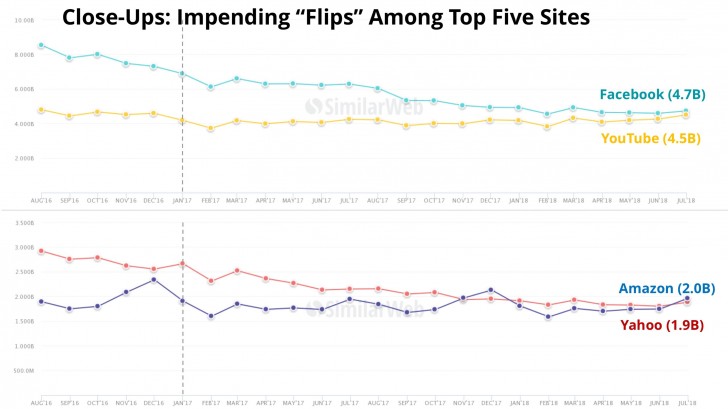 YouTube is maintaining interest in its platform due to availability on plenty of platforms like Chromecast and Smart TVs, while Yahoo is going down for the very same reason from the opposite side - not able to keep up with current trends and stay relevant due to tradition.
While all other sites in the Top 5 get 90% revenue from advertising, Amazon is the only platform that brings 75% of income from actual transactions due to its nature of being a retailer. Jeff Bezos' company barely surpassed Yahoo in July 2017 and in July 2018 because of Prime Day, happening in the middle of the month. SimilarWeb predicts the rising interest will continue and Amazon will stay ahead of Yahoo on a daily basis soon if current trends in user behavior continue.
G
Yahoo has a billion email accounts, all of which got hacked! I had to change all my passwords. Yahoo also has excellent News, Finance and Weather websites as well as Yahoo Answers, although lately I have been spending more time on Quora.
S
Yeah facebook is crap boring now
?
I would upvote you if I had an account on this website.
ADVERTISEMENTS