Google is getting serious about VR this year. With VR capabilities built into the latest Android release, and with its very own Daydream View VR headset becoming available tomorrow, the search giant has released a new app into the Play Store today.
It's called YouTube VR, and is, well, YouTube in VR. As you can see from the screenshot below, it turns browsing YouTube and watching videos into a 3D experience.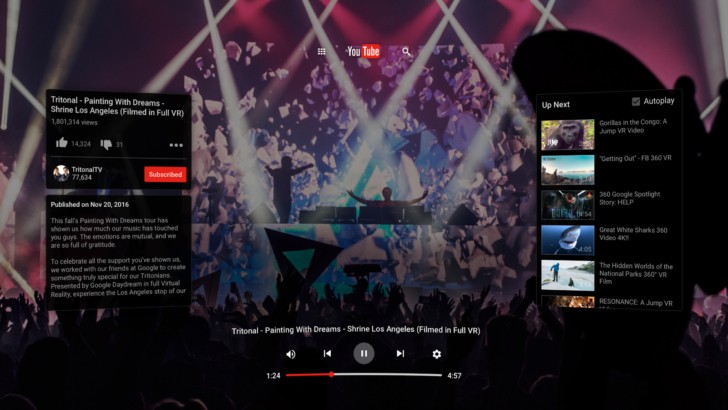 Using this app, your Google Pixel or Pixel XL smartphone, and the Daydream View headset, you can watch 3D 360-degree videos, but also "standard rectangular videos". In fact, you're able to watch every single video that's posted on YouTube, and do so within a VR space. The videos that aren't VR-ready will be shown in a virtual big screen in a specially designed "theater mode".
The app supports signing in, so you can view your subscriptions, playlists, and watch history too. Spatial audio is built into the app, which means depth and distance play a role depending on where you look. You can watch a video and browse for others at the same time, and the app is voice control capable.
D
Now this is a great app. it truly shows that the VR industry is growing and we may soon be able to integrate it into regular life.