ZTE Axon 20 5G video teardown goes hunting for the hidden selfie camera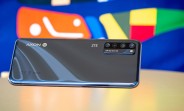 We've already reviewed the ZTE Axon 20 5G in-depth, but what we don't do is pry inside handsets to give you a literal look at their innards. On the other hand, that's exactly what JerryRigEverything's video teardowns are for, and today the channel uploaded exactly such a thing concerning the Axon 20 5G.
This, remember, is the world's first commercially available device with an under-display selfie camera, that stays hidden from view and doesn't require any unsightly notches or hole-punches or moving parts. The Axon 20 is definitely far from being a perfect phone, but it is an interesting view at what will probably become mainstream technology in a year or two. After all, in-display fingerprint sensors were initially just novelty items, and now they're everywhere and the best ones are practically perfect in both accuracy and speed.
Under-display cameras still have a long way to go in terms of quality, if we judge them solely based on the Axon 20's effort, but we're probably going to get there sooner, rather than later. While we wait, you can take a peek at the Axon 20's under-display selfie cam, which in itself doesn't seem very special. What makes everything work is a tiny part of the display that's on top of it, which can become transparent enough to let the camera 'see' through it. And if you watch the video to the end, you can also basically take a look at what the camera sees when that happens.
?
Yep, it took 3-4 gens to perfect the under-display fingerprint sensor, expect the same for the under-display selfie. Good 1st gen effort from ZTE though, somebody had to do it.
ADVERTISEMENTS