Last week we did a quick overview of the big players on the mobile market, but it turns out we missed a pretty big one. ZTE are hardly considered a major player in Europe in North America, but the IDC report shows that in 2010 they've shipped more handsets than RIM globally.
The Chinese company recorded a higher increase in the number of handsets sold last year than any of the major brands and comfortably became the fourth largest manufacturer worldwide. According to IDC, ZTE sold 51.8 million cell phones in 2010 (compared to just 26.7 million in 2009), which is 3 million more than what RIM managed.
In the UK alone ZTE shipped some good 4 million handsets in Q4 2010.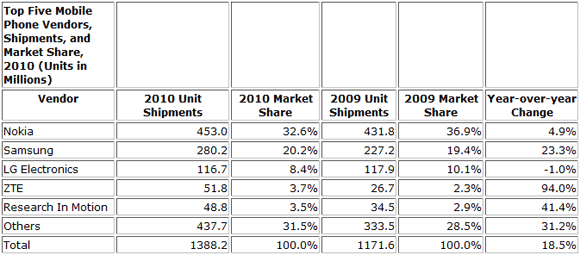 That sends BlackBerry down to fifth place globally, while Apple leaves the big 5 altogether (for now, at least). Sony Ericsson, Motorola and HTC are shifted to 6th, 6th and 8th position respectively.
Some other interesting numbers from the IDC report include the 18.5% growth that the mobile phone phone market achieved globally in 2010. LG was the only company that had its shipments fall Year-on-Year, even the fall was a meager 1%.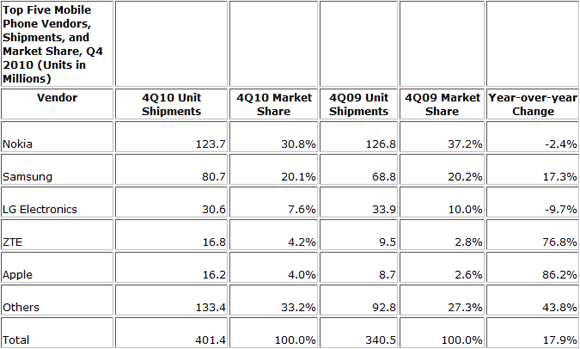 We do believe, though, that the South Koreans will make up some of the lost ground with exciting devices like the Optimus 2X and the Optimus Black just around the corner.
Meanwhile, Canalys published a study on their own, which reveals that Android was the number 1 selling OS over the past three months. It scored an impressive 615% growth to 33.3 million units shipped and overtook Symbian for the lead.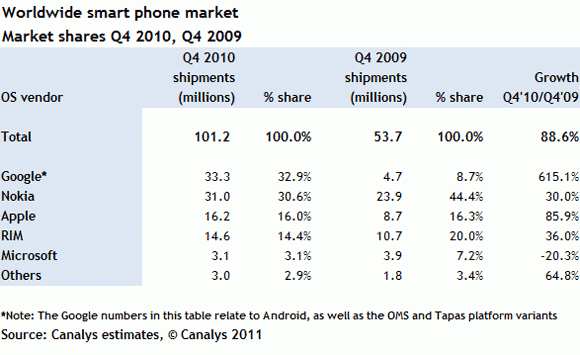 Canalys also revealed that WP7 handsets are doing better than some earlier rumors suggested - 3.1 million of them have already been shipped.
D
Android OS is great i am in love with my desire HD
?
I read that too. You should always be sceptic when reading analyst reports. They quite often biased or just plain wrong for one reason or another.
ADVERTISEMENTS