IDC's latest report on global mobile phone shipments bring to light some interesting things. Mostly it's the rise of the Chinese company ZTE to the No. 4 spot in global mobile phone shipments, overtaking Apple in the process.

This promotion was brought on by the staggering 57.9% jump in growth in shipments compared to last year. Meanwhile, Nokia, Samsung and LG continue to hold on to their No. 1, 2 and 3 spots respectively.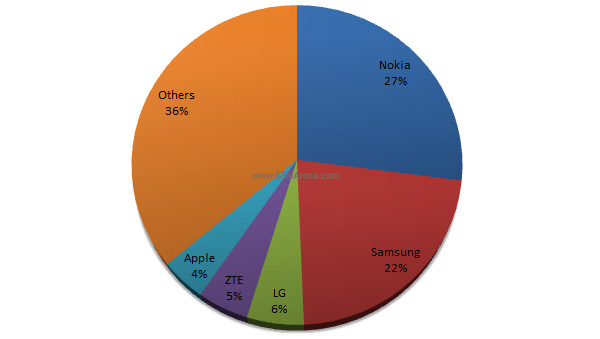 ZTE is not the only one experiencing growth. At 23.0%, Samsung saw the second highest growth compared to 2010 while Apple saw a 21.3% growth. Nokia and LG, however, weren't so lucky. Nokia's market share went down by 3.4% whereas LG saw a massive 25.7% drop in popularity.
The entire mobile phone market grew by 12.8%, exceeding IDC's forecast of 9.3%.
?
thats anything but true. ICS is first launching on Samsung Nexus, even if deal isnt fully concluded Google wouldnt want their relationship ending with any partner especially Samsung as they've got a droid covering all price categories entry levels to...
?
In Australia Telstra uses ZTE as their main phone to sell- and as they are the main telecomunications provider for Australia ZTE sales are huge here. Look at any catalogue or walk into any store and you will see them- if you are with Telstra you will...
v
Nokia is still the first one because of their phones under us$100... which the other brands dont have many options. ZTE is growing because they are competing with Nokia and releasing more attractive phones, with more features and better prices. I kne...
ADVERTISEMENTS