Gallery
The gallery app on the ZTE Blade S6 looks plain and straightforward enough, but underneath its simple black exterior, there are a multitude of quite interesting features that definitely deserve to be mentioned.
Launching the app brings you to a simple tiled interface of the various albums on your device. Images can, however, be sorted according to a multitude of criteria. Location, time and even custom tags can be used for sorting or everything can simply be placed in a long list, if that is your preference. The app also handles videos, but filters them out of the view by default.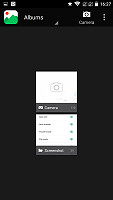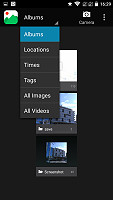 The main gallery interface is simple
Once you open up an album, images are displayed in a tiled fashion four in each column with horizontal scrolling. This grid view can be changed to what ZTE calls "Film". It place a single larger image thumb in the frame and again enables horizontal scrolling. Pinch zooming can both exit this preview and focus on a single image and also bring you back to it if you zoom out enough, which definitely makes for a straightforward and intuitive experience.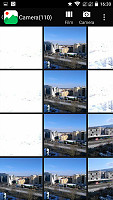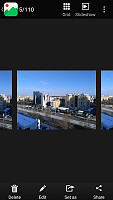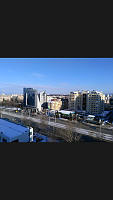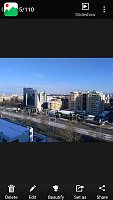 The gallery offers grid and film view
The gallery also comes with two additional features to spice-up you photo collection. First up, we have a Collage maker, which is exactly what it sounds like. The option comes with nice interface that allows you to choose templates, borders, shadings and even freely rearrange images to get the desired effect. Perfect for summing up a trip in a few shots.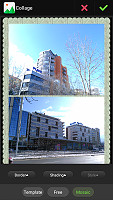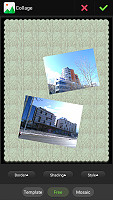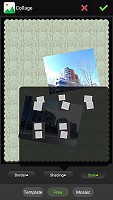 The gallery comes with a collage maker
The other feature of interest is the bundled GIF maker. It allows you to quickly stitch together photos into an animated sequence with adjustable speed and save it as a .gif file. Another nice little touch from ZTE and actually quite amusing.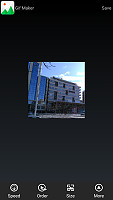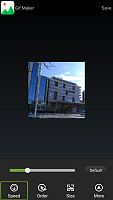 The included Animated GIF maker is loads of fun
Last, but not least, the Blade S6 allows you to edit photos straight from the gallery. The editor itself is surprisingly packed with features, ranging from trivial cropping and effects all the way up to fine-tuning colors and applying different blurs. It is definitely more than accurate for quickly fixing up a photo before uploading it online.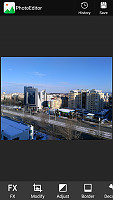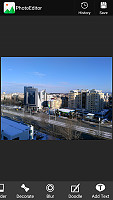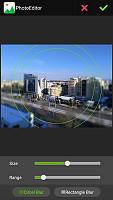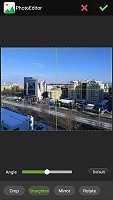 The image editor is surprisingly rich in options
Video player
The ZTE Blade S6 comes with a dedicated video application. It offers a quite basic interface and few advanced features, but definitely gets the job done. One apparent nuisance is that the app tries to index all of the videos on the device and does not do a particularly good job when it comes to finding files on the SD card. Swapping out the card only exacerbates the problem. The player itself does offer Hi-Fi support as well as a very interesting pop-out mode which spawns a small draggable video window on top of the UI. And it actually works pretty well.
As far as format support goes, the Blade S6 didn't have any issues with playing every video we threw at it, regardless of the video encoder used. It refused to play a videos with AC3 audio, though.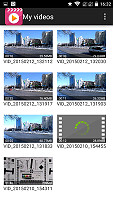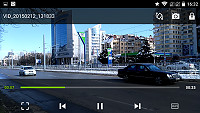 Simplistic video player with interesting pop-out feature.
FM radio on board, but sadly no RDS
There is a built-in radio in the Blade. It is fairly straight-forward with nothing too flashy or advanced in terms of looks and functionality. There is a favorites function, of course, but sadly no RDS support.
Feature rich audio player
ZTE has apparently put a lot of work into the multimedia experience on the Blade S6. Just like the gallery, the default music player is packed to the brim with features and offers and experience that even the most-picky audiophile should find pleasing.
Starting the app brings up a straight-forward interface that looks simple enough, but again there is a lot more to it than meets the eye. We can clearly see a pattern developing here and we do like it. Most of the aforementioned apps are really designed with user experience in mind. With practically no learning curve beginners can easily find their way around, while there is a lot more hidden away under the hood for those willing to tinker.
Swiping to the right takes you to the current playlist and swiping left brings out the lyrics to what is currently playing. It does, of course, require an active network connection, but no more searching for the words to that one song you particularly like.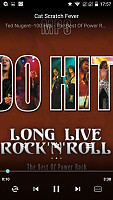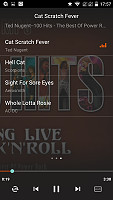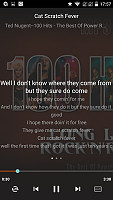 The music player comes with a lyrics function
Tapping on the main interface gives you a list of even more interesting options like reading the ID3 info, assigning the track as a ringtone or to a particular contact and even cutting a particular part out.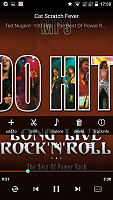 Easy access to more advanced track options
There are a few more goodies hidden away in the music app. Browsing through your audio library is complimented by an extra tab that allows you to purchase music online. Last, but not least there is something ZTE calls "Music hunter" inside the app menu.
What it essentially does is recognize songs through audio analysis in much the same way Shazam does, for example. Having it easily accessible and baked right inside the audio player is definitely yet another nice touch.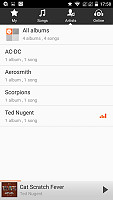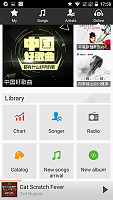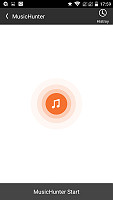 Built-in store and song recognition module
Top-notch audio output
The ZTE Blade S6 may be a mere mid-ranger, but its audio quality is flagship material. Loud and clear, the smartphone can handle some pretty powerful headsets and still deliver crisp audio output making sure all tracks will sound the way they are meant to.
The smartphone did perfectly in the first part of our audio quality. When connected to an active external amplifier, the Blade S6 delivers perfectly clean output at high volume levels - up there with the best in the mobile world.
Better yet, when you plug in a pair of headphones the only distortion is a minor amount of extra stereo crosstalk. Overall the output is still about as smooth as they come and volume remains ever so high - a really impressive overall performance.
And here go the results so you can see the details for yourselves.
| | | | | | | |
| --- | --- | --- | --- | --- | --- | --- |
| Test | Frequency response | Noise level | Dynamic range | THD | IMD + Noise | Stereo crosstalk |
| ZTE Blade S6 | +0.02, -0.07 | -93.1 | 93.1 | 0.0024 | 0.0089 | -93.1 |
| ZTE Blade S6 (headphones attached) | +0.08, -0.02 | -92.9 | 92.7 | 0.021 | 0.066 | -76.5 |
| Samsung Galaxy A5 | +0.02, -0.07 | -94.5 | 91.4 | 0.0044 | 0.012 | -93.8 |
| Samsung Galaxy A5 (headphones attached) | +0.23, -0.11 | -92.4 | 90.4 | 0.017 | 0.190 | -44.1 |
| Samsung Galaxy A3 | +0.02, -0.08 | -94.2 | 91.8 | 0.0039 | 0.014 | -93.6 |
| Samsung Galaxy A3 (headphones attached) | +0.33, -0.02 | -92.7 | 90.9 | 0.067 | 0.208 | -51.2 |
| HTC One mini 2 | +0.02, -0.09 | -94.8 | 93.8 | 0.010 | 0.011 | -93.5 |
| HTC One mini 2 (headphones attached) | +0.08, -0.03 | -94.9 | 93.8 | 0.028 | 0.022 | -90.1 |
| Motorola Moto G (2014) | +0.01, -0.06 | -91.6 | 92.4 | 0.0089 | 0.014 | -91.7 |
| Motorola Moto G (2014)(headphones attached) | +0.02, -0.09 | -91.6 | 92.4 | 0.011 | 0.017 | -45.7 |
| Apple iPhone 5s | +0.02, -0.05 | -93.6 | 93.7 | 0.0013 | 0.0068 | -90.3 |
| Apple iPhone 5s (headphones attached) | +0.12, -0.00 | -93.4 | 93.3 | 0.0016 | 0.060 | -76.1 |
| Oppo R5 | +0.02, -0.08 | -93.4 | 92.5 | 0.0009 | 0.398 | -93.2 |
| Oppo R5 (headphones attached) | +0.66, -0.01 | -93.3 | 92.9 | 0.011 | 0.385 | -68.6 |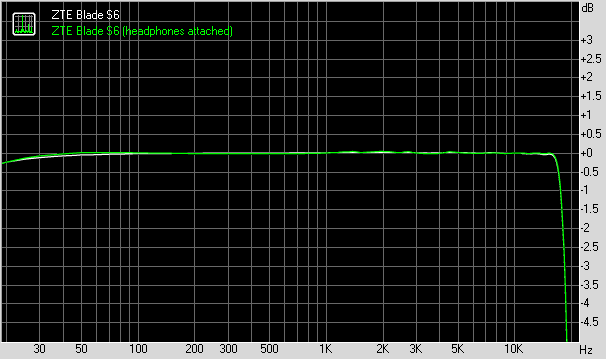 ZTE Blade S6 frequency response
You can learn more about the whole testing process here.