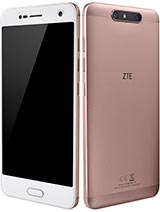 ?
Bought it for 149€, it´s pretty good for that price and replaces my - back in the day - way too expensive S7 Edge.
It´s biggest strength is, that it doesn´t have any real weaknesses.
Good screen, good battery run time, good calling quality, great fingerprint scanner, very decent camera and audio via Bluetooth and AUX. It also has Dual SIM (shared), wich is a viable option with 32GB internal memory.
The only real downsides are the lack of 5GHz WLAN and the weak main speaker.
The Mifavor UI does, despite the not very potent Snapdragon 435 (it´s sufficient for almost all 3D games though), work more fluently and stable than my S7 Edge ever did.
I like it, good phone if you get it cheap.
?
It says that this phone is dual sim, but however in the manual for the phone is doesn't mention anything about dual sim.
You can put the 2nd simcard in the SDcard holder, but it won't recognise the sim.
In the setting you can't find anything about dual sim or sim management.
a ZTE phone is and will stay a joke.
k1
Caspar, 21 Apr 2017It does not reckognise the second sim card - is it really a dual sim phone? I don't find th... moreIt is dual sim on the phone look up
Settings--> Dual sim settings
The menu is visible regardless if you have 1 ,2 or no sim inserted.
and check the icon in the sim tray both the nano sims must be parallel
r16148
micromax is borrowing it to launch as their dual 4..hahahahaha....
C
It does not reckognise the second sim card - is it really a dual sim phone?

I don't find the "Dual Card Management" function in the settings menu.

M10
The battery of this phone is not enogh to last long.I wish to see 4000mah on every device with 5.5 inch.It should be standard
921
689
It looks nice to be honest, but ZTE - why use microUSB v2.0, why!?
Move on!
?
Dual camera on low budget chipset. Its official. This camera is a norm now.
Total of 14 user reviews and opinions for ZTE Blade V8.