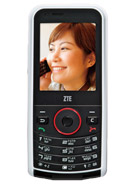 K
i suggest you can have a try with ZTE update tool. you can log in their official website zte.com.cn, and you can find the software under technical support.
I hope it can help you solve your problem.
s
yea, i also tried looking for it on the net but could not get any detailed specs. not even on the zte website. but i bought it anyway. cool phone though. its got skype and windows messenger..
Total of 3 user reviews and opinions for ZTE F103.