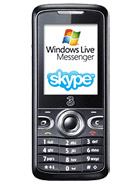 C60850
The ZTE branding is nowhere to be found, someone help me?
M1264138
Oh my. I actually remember this phone. I knew there was a phone by ZTE in collaboration with Hutchison 3G and I think I found it here! :)
?
I am going to throw this phone on the road if I can not take the predictive txt off
a
AnonD-74954, 08 Oct 2012am in zimbabwe and i cant use the sim cards found there what can i do to use them on my f107 ztego there?
?
i am not able to use the facebook and twiter.what can i do? From Swaziland.
D
am in zimbabwe and i cant use the sim cards found there what can i do to use them on my f107 zte
D
Anonymous, 25 Jan 2011one of the best phones ever very very very simpleYep
D
In late 2009 I bought the ZTE f102 which was identical in looks to this but a little less powerful. The 3Shop upgraded it to this f107 when I queried the lack of a memory card which should have been included in my deal.

I am still using this phone in 2012 because with web, skype, facebook, google maps video camera, voice recorder in this compact size with a powerful processor, there's really nothing it can't do.

I like it so much that I'm trying to get a second phone and wish I'd done so when 3 were offering this at £20 WITH a £10 credit included, in the most memorable deal this century.

It will cost me more to get a second hand f107 because they're long discontinued but I am a huge fan of this little miracle and pleased that it was recognised rightly as a small revolution at the time of the f102 version's launch.

Sensational
s
My brother brought this device few months back . he has not faced any problem in the device its working fine. specificatins are really good.and the display resolution is really good. the processor spped is really good.

d
my oppinion....??..u say nothing of accessories??!!..how are we to compare it to any other 'phone without 'knowing' its full kit/functions??...fix up!!!
c
i bought your product and i am having problem with it right now pls how can i repair it.
b
Bought it as a back-up/lend out telephone with Pre-paid.

I live in a somewhat remote forest village (Swedish inland). For a few weeks ago a son of visiting friends got lost and it took 3 hours to find him with help from neighbors and police.

This phone will be lend out so it will be a little easier to find a strayer.

Just sadly that GSM/3G coverage is so bad here.
Total of 13 user reviews and opinions for ZTE F107.