According to a leaked promo, Sprint is about to offer an impressive new droid called ZTE Flash. It's an LTE-enabled smartphone running on Android 4.0 Ice Cream Sandwich.
The ZTE Flash is supposed to be powered by the Snapdragon S4 platform – a 1.5GHz dual-core Krait, Adreno 225 graphics and 1GB of RAM. The rest of the specs include a 4.5-inch IPS HD screen with Gorilla Glass, a 12.6 megapixel camera with LED flash, a 1MP front snapper for video chats and 8GB internal memory (expandable via a microSD slot).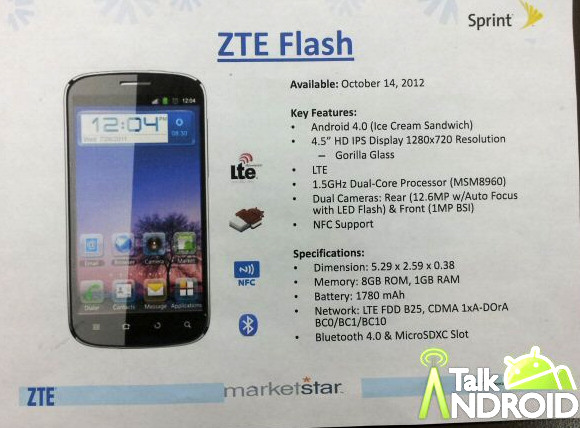 In addition to the LTE support ZTE Flash comes with NFC, Wi-Fi, Bluetooth 4.0, GPS and proper CDMA support for Sprint's network.
The ZTE Flash is rumored to launch on October 14 and there is no info on the pricing yet.
R
Hilarious I sold my nexus to buy a Lumia 900 see, it works both ways I couldn't get over the Nexus poor camera quality and poor battery life. Not to mention the cheap build quality. The lumia gave me all three of these things over the Nexus.
J
What you wont buy Chinese. Just look at your underwear and it is probably made in China. Look at you clothes, TV, just about anything, and all or part is made in China. ZTE is a good brand.
L
Unfortunately Chinese companies didn't learn how to make something with good quality ... I would never risk to buy something chinese for myself
ADVERTISEMENTS