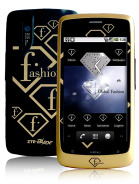 J
Ugly but excellent price for what it gives you. The problem with all those fashion TV logos can be fixed with another back cover. Fashion TV apps and the 150MB limit can be easily fixed with a simple rooting of the phone and Link2SD.
Overall it is a very good choice for a very low price.
?
"This phone is wonderful, I really like the phone and I still think it's great. However, if you want to get a phone that runs Windows The screen is a gorgeous Camera: I would say that the camera works grest Speakers: The speakers are decently loud but the sound does get distorted at higher volumes. I would say that it is decent for a phone speaker.Call Quality: The call quality is really good. Hearing other people is very clear and my friends say they can hear me very clearly Battery Life: I would say the battery life is about average totally a great windows device to use highly recommend.
"

t
really?... jajajaja!!! ... simple, ugly phone.. FtvPhone, MY GOD!
K
AnonD-24434, 29 Dec 2011Same as ZTE Blade.No dude you hav got negative information on this ph its OS are different and its features are totally different ZTE never repeats there features in there produts
K
Hi Guys who are lookin for a fashionable ph here comes an FTV ph form ZTE with lots of features iam using the same ph i really enjoy to have this ph and very much thnk to ZTE for releasing this ph and also its an android with 2.2 Froyo OS!!!once i faced a problem in software when i was updating a S/W then my frnd refered me to visit the ZTE official website and did that and i easily solved the S/W problems if any one facing software promlems in this ph u can visit this link:ww.zteuk.co.uk, click Devices-->Product List(choose models here)-->Product support
n
Oh... no.. the resolution is 480x854 px.. why you use Qualcomm MSM7227??
t
Poor specs... Not competitive... But I hope it will be a budgeted smartphone...
Total of 15 user reviews and opinions for ZTE FTV Phone.