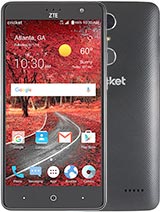 o
omnikami, 13 Dec 2017Battery life is great. Problem with the Dolby digital audio app when you receive a call and yo... more(Update : Call quality is declining due to too small of a mic space at bottom of device. My phone protector case worsens the issue)
o
Battery life is great. Problem with the Dolby digital audio app when you receive a call and you're listening to music; it turn the sound very metallic with super low base. As a moderate to heavy music user on a cell phone this is a small but annoying hassle to force stop app and music app to restart. Not a good phone have if you're in Canada and using freedom mobile as a provider. Frequent missed calls and text coming hours later. Other than that it's a solid phone.
K
I LOVE MY ZTE GRAND x4. The only bad thing I have found is the ability to move all my apps to my memory card. I'm now out of memory and need to go get a new phone. I'm so horribly sad, this is the best phone I've had in years through Cricket. I'm sure there is a way! I will research before buying a new one, for sure. However, BEST PHONE!!!!!!!

I love the fingerprint login, then I can talk about my roommates and they can't login to see where/who/why I'm complaining!
g
unhappy with not being able to root phone in order to disable stock google junk i don't utilize. also unhappy about nonremovable battery...guessing the phone will need to be pried open to swap out.
thrilled about battery life and camera.
s1
Decent phone and putting all the features together am satisfied. The only drawback is the resolution. So pics are not great looking as in Samsung note 4 or 5. So if you are a gamer
this phone is not for you.
M
Beautiful and powerful phone. Better than a lot of more expensive ones
Total of 7 user reviews and opinions for ZTE Grand X4.