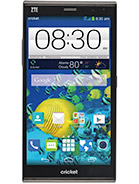 D
I actually played around with this phone yesterday at a Cricket store. I am wondering however, if the 1.2 processor is enough to keep up with the quad core. Can anyone comment on that?

The phone seemed fast and very responsive. At $199 for the size and features, I see this is a great deal as long as it doesn't start lagging because of the processor.

A
Excellent phone
but NO LTE?!
Either put LTE or put the highest
end processor and RAM, because 3g with a slow processor speed and low RAM is a total junk!

ZTE: This phone is for US Market and not
for countries that still have no LTE Network!
I hope this phone costs $100, because it's not worth more if it doesn't have LTE.
Total of 65 user reviews and opinions for ZTE Grand Xmax.