Samsung and Apple have posted strong Q4 numbers with smartphone shipments reaching tens of millions of units, but as IDC points out in its latest report they were the only winners in 2012. Two Chinese companies have now made it to the top 5 of the smartphone manufacturers, overtaking makers like RIM, LG, HTC and Nokia in the process.
Huawei's smartphone shipments grew by 89.5% year-over-year, allowing the company to capture 4.9% of the market. This makes the company in third place, even if some way off Apple with 21.8% and Samsung with 29.0% market share for Q4.
In fourth, Sony managed to ship 9.8 million smartphones for a market share of 4.5% in the previous quarter, scoring a nice 55.6% YoY growth. ZTE stands fifth, accounting for 4.3% of all smartphones in Q4.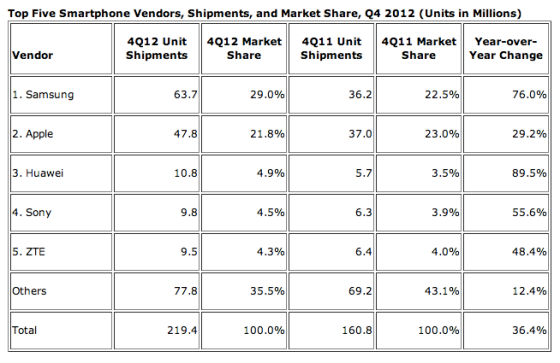 For the full 2012, the picture is rather different, Samsung holding an even larger advantage over the second-placed Apple.
Nokia and HTC, RIM did enough work in the first three quarters to get third and fourth and fifth spots for the full year, respectively.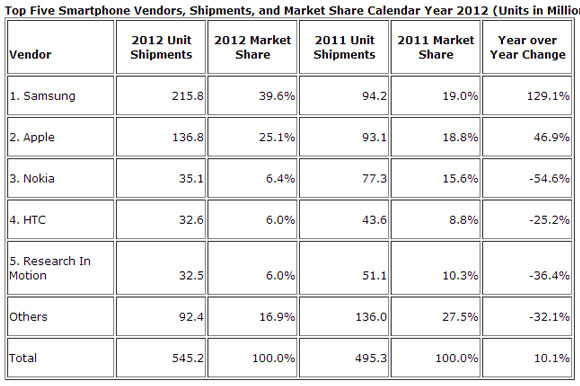 Samsung is also king as far as total number of phones sold in Q4 is concerned (smartphones and featurephones). Holding 23% of the market, the Koreans are followed by Nokia, which thanks to its Asha and cheap S30 series of phones managed to climb to the second spot with 19.6% market share. However, the Finns have allowed they shipments to slip 19.5% YoY.
Apple could only manage third here, as it only manufactures smartphones, while the final two top 5 spots are occupied by Huawei and ZTE. is still on top with a market share of 23.7 percent, which is 22.7 percent more over last year's results.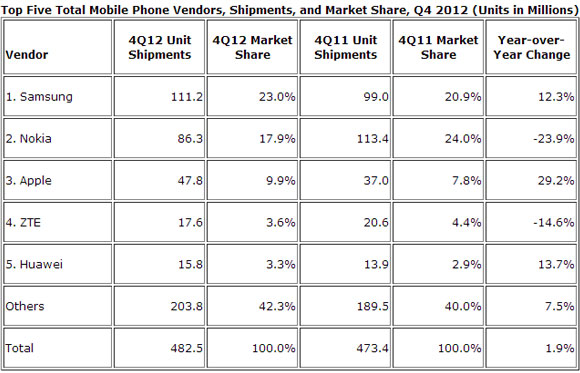 The final numbers released by IDC concern total phone sales in 2012. Samsung accounted for 23.7% of the 1.7 billion hadnsets shipped last year, having a comfortable lead at the top.
Nokia came in second with 19.6% of the market, while Apple was a very distant third with its 8% share. ZTE and LG completed the top 5 list with 3.8% and 3.3% of the shipments, respectively.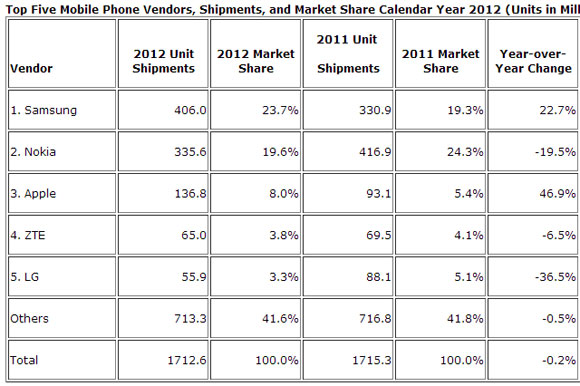 ?
Bro, Apple is worth $500 billion. That's way more than any other Android company out there.
T
Huawei is originally made in China. If anybody sell a Huawei phone made in Japan, that must be an imitation unit. LOL!
D
I am starting to really like the huawei phones, they really are quality for the price they ask. I just hope they manage to improve the quality a bit more as it is a little lacking. Now i am wondering where the other manufacturers are, why are t...
ADVERTISEMENTS