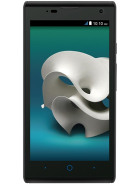 D
I own this phone. Its great with the exception of when it rings, you hear the ringtone, you can feel it vibrating but the screen remains black for 3-4 seconds before the number and the picture of the person who is calling comes up. That is major annoying. i hope its an issue with the OS that will be fixed with an updated OS.
D
The specs on PPI appears to be out. Comparing it to the RAZR M which has more pixels on a smaller screen, but a lower PPI. Does not make sense.
Total of 43 user reviews and opinions for ZTE Kis 3 Max.