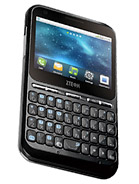 L10
How is this a feature phone? It looks like Android to me, and second, why does it look like that this phone has a touchscreen, yet it says that there's no touchscreen, strange.
D
the ram and rom its wrong
i have this phone and the ram is 147 mb i think and the rom its 64 mb
D
Alexx, 17 May 2012Looks nice.But NO OS?C'mon!its java
cldc:1.0
Midp:2.0
?
Mine its a nova messenger but nothing like that only the software
Very strange
Total of 10 user reviews and opinions for ZTE Nova Messenger.