ZTE Nubia Prague S announced, Snapdragon 615 and 5.2-inch FullHD display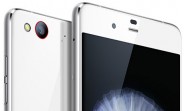 ZTE has just announced the Nubia Prague S smartphone. Quite similar to the existing My Prague model, the new device does bring a few changes, though it can hardly be called a successor.
Starting off with the display, it's the same 5.2-inch FullHD affair, complete with 2.5D glass. Running the show is again the Snapdragon 615, with an octa-core CPU inside. Prague S, however, packs 3GB of RAM and 64GB of built-in storage (expandable, too) in all its versions, whereas My Prague comes with either 2GB/16GB or 3GB/32GB.
The 13MP camera on the back, coupled with a single-LED flash is familiar too, as is the 8MP front shooter. An improvement over the older model, Prague S now comes with an iris scanner. There's also nubia's FiT tech on board, which let's you operate the smartphone using its touch-sensitive edges.
Measuring 148.2 x 72.5 x 6.8mm, the smartphone has more or less the same footprint as My Prague, but is noticeably thicker than the 5.5 millimeters of the older model. You'd think that it might pack a larger battery then, but no, it's the same 2,200mAh. It's a few grams lighter though, at 135g.
Available now for pre-order in China, Nubia Prague S is offered in Silver and Rose Gold. Depending on supported cellular connectivity it's priced at either CNY 2,399 ($365) or CNY 3,499 ($380) and will go on sale on January 23.
-
blu life one x (2016) is better than this phone, has same display size, same amount of RAM it is octacore too, but I like more the withe leather looking and golden bizzels colors and also the price compared to this
D
Completely agree, every smartphone company pretty much copy's one another, i don't think this is a copy of anything, to me its their own design and a good one too.
D
The downfall about this phone is 1. The chip set 2. No color in black 3. 6.8mm is still very thin but why not keep it the same thickness as the ZTE My Prague at 5.5mm, same battery in this new one so why not keep it at 5.5mm. I took like a nig...
ADVERTISEMENT