Upcoming ZTE nubia Z20 shoots total solar eclipse, here are the images
A rare total solar eclipse was observed on July 2 in Chile, and the unannounced ZTE nubia Z20 was there to capture it. Seriously, the phone that hasn't leaked at all yet has produced the camera samples you can see below, of the eclipse. Note that even at full size these are very small, you can thank Weibo's image system for that.
The shots were shared on the Chinese social network by Dr. Deng Licai of the Chinese Academy of Sciences, who was there for the eclipse in Chile with the Z20 on hand. He also tested the nubia Z18 before release last year, when he used that phone to shoot the Milky Way.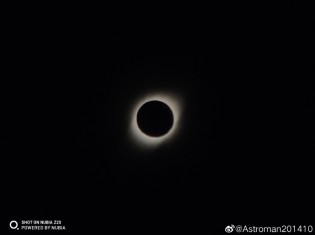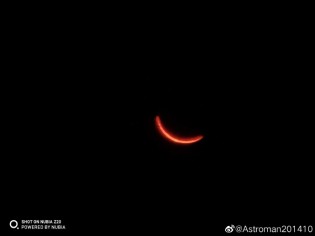 ZTE nubia Z20 camera samples showing total solar eclipse
nubia President and co-founder Ni Fei then reblogged Licai's post, adding that the Z20 will be a top-level phone for mobile photography. That's all we know about it so far, but hopefully it will start leaking now that its existence has been confirmed.
Since it's going to be the successor to the nubia Z18 which launched last September with the Snapdragon 845 on board, we expect the Z20 to rock the Snapdragon 855.
f
Hey GSMArena, its possible to get full resolution pics from Weibo, you just need to be logged in ;)
I
Does it matter, Nubia phones don't get reviewed on here or basically anywhere else anyways to get some real test results/ comparison
s
yes nice now every device will run through solar energy.