nubia Z30 Pro stars in official trailer, will borrow Axon 30 Ultra's cameras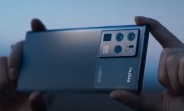 ZTE's brand nubia has posted an official video teaser of the nubia Z30 Pro smartphone. The four-minute video says the phone will be ideal for photographers of the night sky, and the device has appeared in the clip as well.
The cameras look exactly the same as the Axon 30 Ultra setup and only the "nubia" writing confirmed it is indeed a new phone.
Since the ZTE Axon 30 Ultra has a 64MP wide + 64MP standard + 64MP ultrawide + 8MP telephoto setup on the back, we are pretty confident the Z30 Pro will have the same combo. We also expect the front to arrive with ZTE's new under-display camera technology, and one spy shot suggested this really is happening.
The video raises questions about previous Z30 Pro renders we spotted. If they are real, they are more likely to be of a vanilla ZTE nubia Z30 smartphone that could be powered by a Snapdragon 870 chipset, rather than the flagship SD888, expected to run the Z30 Pro.
a
https://www.reddit.com/r/Android/comments/kov3lk/snapdragon_888_failed_another_exynos/ https://www.patentlyapple.com/patently-apple/2021/05/tsmc-bailed-qualcomm-out-of-a-jam-earlier-this-year-when-the-snapdragon-888-produced-by-samsung-caused-overh...
?
Interesting info. Could you please share more info about SD888 issues? I'm planning to buy Mi 11 Ultra. Thank you!!! PS: Which SD870 phone has great cameras? Please suggest.
a
It's because this year's SD888 is totally a disaster in terms of battery performance, thermal heating, etc. So people are going for a cheaper and more reliable alternative chipset. Also, Chinese brands are not the only ones to follow the ...
ADVERTISEMENTS