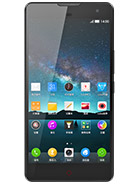 a
gsmed, 24 Jul 2014Is this a removable battery ? Where are service centers in Thailand. Who can load new lan... moreThe phone is dual sim dual standby, not dual active. Dual active phone is hardly seen nowdays

Nubia series aint officially available else where beside china, so bring it to your local zte service center also useless.

Common preinstalled language is english and chinese, other no idea.

g11
Is this a removable battery ?
Where are service centers in Thailand.
Who can load new languages if not shipped with what is needed ?
g11
Is the dual sim a standby switch to be one or the other or can use both; one for phone; one for data;- and select any combination of usage; along with the selected phonebook ?
Can I select phone-on one sim non roaming and then the other sim for data to be online or not for roaming-wifi connect ?
g11
if you can record 1080p; you can only save to the memory card. why not mini hmdi out plug to watch on tv ? or dump direct to a pc/hard drive ? the rest looks great other than my preference is full size mini sims.
B
Dual Sim plus LTE at this price and Top end specs is Just all worth it.
Z
GSMArena please please review this phone as soons as possible. I really want the audio quality test.
m
i had bought 4 phone in past 3 years unlock from china i don't care who said it work for me save me some money and good looking too friend me ask where your get these phone from.
a
Aadrian, 09 Jul 2014The Z7 Max is even a fraction smaller than the Z7.most likely due to some extra features on z7 such like ois which slightly increase the phone dimension, and the removable battery. Max and Mini battery is non removable type
a
[deleted post]It has gorilla glass 3 protection, using sharp cgs panel
S
The best phone ever!!! These specs and design is just what my dream phone would be. I'm definitely gonna get this awesome device. Thank you so much ZTE!!!
?
my opinion: perfect phone, has everything i wanted:
5 or more, max 5.7 inch screen
16 GB minimum internal memory, has 32.
5 MP selfie cam :D
good rear cam (13 MP)
3000+ battery (3100)
and price of 240 € :D
3894
249
So the Z7 Max version has a memory card slot+100 mAh more battery, but less RAM.
Total of 135 user reviews and opinions for ZTE nubia Z7 Max.