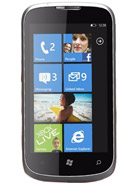 r
"ust love this phone for everything in it. When the majority was going with Android i was a lil doubtful if i should go against the mass , but after all i had read about the Android phones and their problems. i now feel i kinda made the right choice. Windows Phone 7.5 (Tango 2) on a brilliant 4.0"" WVGA capacitive touchscreen. It comes equipped with proximity and ambient light sensors, compass and accelerometer for a great mobile experience. with fast and easy text and picture/video messaging, e-mail, Windows Live and unlimited phonebook contacts. It sports a 5 MP auto-focus camera with LED flash for high quality photos and videos that you can instantly share with friends and family. Play music, videos or connect with your Xbox LIVE friends to play the hottest mobile games and more. It also has a Gorilla Glass... Wat more can u ask for.

"

D
Hi i am a new user of ZTE phones and i have this orbit which is the best windows phone i have ever used. i love the phone and best engineering done. Thank you ZTE.
C
My friend own this phone and i found it gud! price Specs are good enough, its easy to handle,have a try with ZTE update tool. Fairly reasonable..
E
I can honestly say that the Windows Phone platform is by far the most original one to come to the smart phone market.Great battery life. Even when I'm streaming Netflix on the go I'm not really worried about the battery. could go on and on but these are just some of the main points to get this phone, or any Windows Phone really. HOpefully this helps you make the decision, you won't be disappointed.Ringtones, use easyRing&Music, its a great ringtone app that even lets you download full songs and trim them down to make a custom ringtone. Easy to use.


K
i suggest you can have a try with ZTE update tool. you can log in their official website zte.com.cn, and you can find the software under technical support.
I hope it can help you solve your problem.
k
livexdeath, 22 May 2012will this phone will be released in meddle east gulf bahrain plz replay For ur information u need to contact service provider .
l
will this phone will be released in meddle east gulf bahrain plz replay

D
This is one of those phones that would be perfect for Metro PCS, Cricket, Virgin Mobile or Boost. This is how Android controls the market.
f
zte stop selling devices to iran for controlling cell phones and internet surfing
Total of 10 user reviews and opinions for ZTE Orbit.