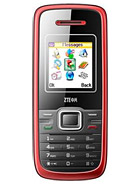 R
I deleted all the wap profiles and the phone shut off and refuses to turn off. how the heck do i sort this out
?
Eddy, 04 Feb 2011use up to 2GB memory card.please explain how i operate file manager
A
Can someone please tell me how I put it on vibrate? I cant seem to figure it out! Either it's not there or I'm obviously retarded :-/

Thanks!
Total of 26 user reviews and opinions for ZTE S213.