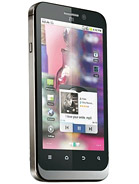 k
Arived in Serbia a week or two ago but can`t be bought in retail or shops, just in one one of our network providers. Beautiful phone, slim, simple, excellent specs, had one for a quick look, only thing that I don`t like is the response of the touch screen, kind a slow. But, overall, excellent specs for a low price
l
why zte phones are not available easily everywhere?many people want to buy because of its simple price mostly developing countries such as south asian contries.
E211
56K colors? So it is worse than my 3 years old 5800 XM?
Total of 66 user reviews and opinions for ZTE Skate Acqua.