ZTE brought three new phones to IFA – two additions to its Blade series and one to the Kis. The ZTE Blade Vec 4G and Vec 3G feature 7.8mm thick bodies coated in carbon fiber.
The ZTE Blade Vec 4G was originally announced in late July but this one has slightly different specs. Anyway, both Vecs have 5" LCDs with 720p resolution and have 2,300mAh batteries but other than that they differ quite a bit.
ZTE Blade Vec 4G
The Blade Vec 4G runs Android 4.4 on a Snapdragon 400 chipset with 1.2GHz quad Cortex-A7 processor and 1GB RAM. It has either an 8MP or a 13MP camera (region dependant) and a 1MP or 2MP front-facing camera.
The phone has Cat. 4 LTE connectivity (up to 150Mbps downlink), tri-band 2G, dual-band 3G, Wi-Fi b/g/n and Bluetooth 4.0. There's 16GB of storage with a microSD card slot.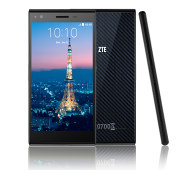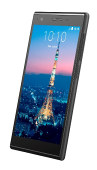 ZTE Blade Vec 4G and Blade Vec 3G
The ZTE Blade Vec 4G costs €230 and has already launched in Turkey, France, Romania, Slovakia, Belgium, Norway and Sweden.
ZTE Blade Vec 3G
The Blade Vec 3G has a 1.3GHz quad-core Cortex-A7 processor with 1GB RAM with MediaTek MT6582 chipset and also runs Android 4.4 KitKat. It has an 8MP main camera and a 5MP front-facing camera (better than the 4G model).
The connectivity is limited to 3G (dual-band), 2G (tri-band), Wi-Fi b/g/n and Bluetooth 4.0. This one also packs FM radio unlike the 4G model. This one has 8GB of built-in storage expandable with microSD cards.
The ZTE Blade Vec 3G will cost €180 and will initially be available in Germany. The 3G model is 4mm shorter than the 4G model but they otherwise look the same (ZTE provided the same images for both phones).
ZTE Kis 3 Max
The ZTE Kis 3 Max is the most affordable handset of the trio. It has a 4.5" FWVGA screen with a rather old TN matrix.
The phone will run Android 4.4.2 KitKat on a MediaTek MT6572 chipset (dual-core 1.3GHz Cortex-A7) with just 512MB RAM. There's a 5MP camera on the back and a 2MP camera on the front.
The connectivity is similar to the Vec 3G – tri-band 2G, dual-band 2G, Wi-Fi b/g/n, Bluetooth 3.0. The battery is smaller than the Vec's, 1,850mAh.
The ZTE Kis 3 Max will cost €100 when it launches in the UK, Germany, Greece and Bulgaria.
D
Carbon fiber always sounds nice
A
They've been making smartphones for a while. Depends on your region, I guess. A lot of their devices get rebranded over here, in to 'carrier-branded' phones. That is, carriers rebrand ZTE phones for use in their lineup.
A
The Carbon Fiber sounds neat.