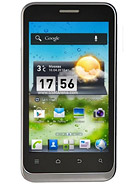 D
I bought this phone like a year ago (january 2013), and just want to clarify that the phone HAS NO FRONT CAMERA, at least the hardware version that is sold in Chile.

And, for advanced user this is not a good smartphone, with a few apps the phones starts to crash. I think it's a matter of bad design, because the phone has 4GB of internal storage for, like installing apps, but it does not have the processor or the RAM to support that ammount of apps.
?
Mahmoud Wafik, 08 Sep 2012this device willn't support Android 4.0 , android for cannot run on 800MHZ Processor and 256 M... moreIt's 1 GHz Snapdragon. While the platfom is more than a year old, its capable of running a lot more than you can expect for 175 USD smartphone that you can buy in any store nearby.

It's built pretty nice, feels solid. It surely does not feel chinese cheap bottle plastic phone. I personally have Motorola Atrix and in a few months display became very lousy (Double-sided duct tape? Seriously, Motorola?) before i glued that bastard firmly - V880E is solid. Back panel has a good grip. Display is okay (no miracles).

Why it shouldn't run ICS? ICS performance is only increased compared to previous versions. There is leaked official test 4.0.4 ROM for it and I can personally confirm it runs great - lot better than stock which is ENRAGINGLY laggy (though there are some unexpectedly good soulutions in ZTE launcher).

I bought this phone for my mother when she asked for cheap nice phone for calling Skype/checking e-mails/comfort browsing on not very heavy sites. It does all this things smoothly - and more.
n
am so into zte smartphones i lost my zte blade and wanna try this one but its not available in kenya.
M
this device willn't support Android 4.0 , android for cannot run on 800MHZ Processor and 256 MB RAM ,
and that is talk from official ZTE Website
"With a busy urban life, you really need a companion that takes care of your business, entertainment, and communications needs. ZTE Nova 3.5 is the perfect candidate. The 3.5-inch capacitive touchscreen phone is easy to hold. Equipped with Android, the phone can be your secretary at work. It supports Wi-Fi, GPS, digital compass and accelerometer, and makes daily life more convenient. Entertainment is at your fingertips with a dual camera and collection of games.
OS Android 2.3 Standard GSM/WCDMA/HSDPA CPU Frequency 800 MHz Camera 3.2 megapixel (rear)/0.3 megapixel (front) Display 3.5-inch HVGA,262K Size 112.4 mm ×59.9 mm × 11 mm Memory 512 MB ROM+ 256MB RAM"
Source : http://wwwen.zte.com.cn/endata/magazine/mobileworld/2012/1/articles/201202/t20120222_287317.html
on end of the page and have attention there is 2 Nova on this page Nova 4.0 with 1gb processor and 512 ram and nova 3.5
A
wayne, 10 Mar 2012Hi i bought ZTE Mobile for my personel experience look of it sufisticated however it does not ... moreTo download the software u need to login to the ZTE official website i.e...ww.zteuk.co.uk,click Devices-->Product List(choose models here)-->Product support
Total of 7 user reviews and opinions for ZTE V880E.