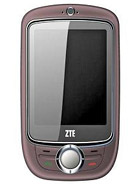 R
Best phone ever, in Portugal the name for Optimus operator is Vegas, and for Vodafone, Indie is the name for it.
K
I have this phone and is very good! go to configure Internet! is normally automatic configuration! I am very happy with this phone! It's even worth the phone
U
Its a super phone for price value. Eventhoug it doesnt come with many built in media. but if you know how to load your videos, photos,music...its a great touch phone for price value.
Other small apps like programamble alarm, world time,stop watch,converter is good.
its touch screen QWERTY keyboard is useful. it also has character recognintion for scribe writing.
?
Very bad phone! Don't buy it.. This is a very cheap phone but doesn't work well. After 1 day you have to recharge your battery and the touchscreen doesn't work properly!
Total of 31 user reviews and opinions for ZTE X760.