Samsung suspends the Android 4.3 update for Galaxy S III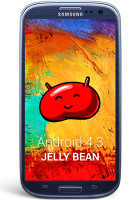 Just two weeks ago Samsung started seeding the Android 4.3 Jelly Bean firmware to its Galaxy S III ex-flagship. It brought variety of new features and support for the Galaxy Gear smartwatch, but was plagued by lots of issues.
Early adopters reported their Galaxy S III's becoming unresponsive on different occasions, crashing and being incapable of proper multi-tasking due to poor RAM manager, stuttering on music playback and even battery drain.
Today Samsung UK officially responded to requests for an official statement saying the following:
"As we are currently investigating the reported issues with Galaxy S3 4.3 Jelly Bean update, the upgrading service has been temporarily suspended. We are committed to providing customers with the best possible mobile experience, and will ensure to resume the upgrading service at the earliest possibility."
So, the Galaxy S III update has been pulled from Kies and the OTA service has been suspended. We hope Samsung resolves this issues quickly and resumes the update rollout shortly. The Galaxy S III skipped Android 4.2.2 and its owners are waiting a year to get a newer Android version since the official 4.1 Jelly Bean ROM was released in 2012.
When will update be ready?
Please help... Do you guys have any idea to reinstall back previous version after updated to version 4.3 for galaxy note 2? This updated really make my phone lack and a lot of program cant be used till the camera too. REALLY NEEDED HELP!!!!
How do we resolve this issue as the firmware is making my phone malfunction?