After appearing alongside the Moto X on Motorola's website the other day, the yet to be announced Moto G showed up yet again. This time, an image of the smartphone, along with some alleged specs made the rounds on Twitter.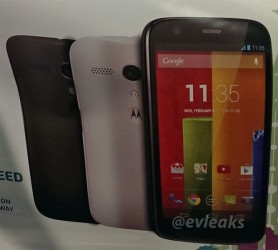 Alleged photo of the Moto G (click to enlarge)
Reportedly, the Moto G will feature a Qualcomm Snapdragon S4 Pro SoC with 1.5GHz quad-core CPU. The display is said to be a 4.7" 720p unit. An 8MP camera, 8 or 16GB of built-in memory, and an LG-made 1,950mAh battery complete the list of leaked specs.
The Moto G is said to start for free on contract when available.
?
I'm hating on bad journalism. This phone is nothing like moto x, not even close, this is not a matter of opinion, it's a matter of fact (look its specs). Stop calling it moto x's "little brother" and I'd stop raging out. It's just ano...
C
1950Mah Battery for Quad Core?? WTF? Total Fail :s
D
Nexus 4 specs in a Motorola... too bad they didn't make the battery bigger. Didn't learn from LG's mistake. I use Nexus 4 and for me it's a great device. except for battery. 8am - 100%. 5pm: about 20%. Usage: typically 5 mins ish phone calls here and...
ADVERTISEMENT