Permissions
Over the years, Google has taken definite steps to secure the data on your device from unauthorized access from third-party apps. An important part of this process is having a robust permission setup. While iOS has always been several steps ahead of Android in this aspect, for its part, Google has eventually brought some of the advancements Apple has made in the permissions department over to Android.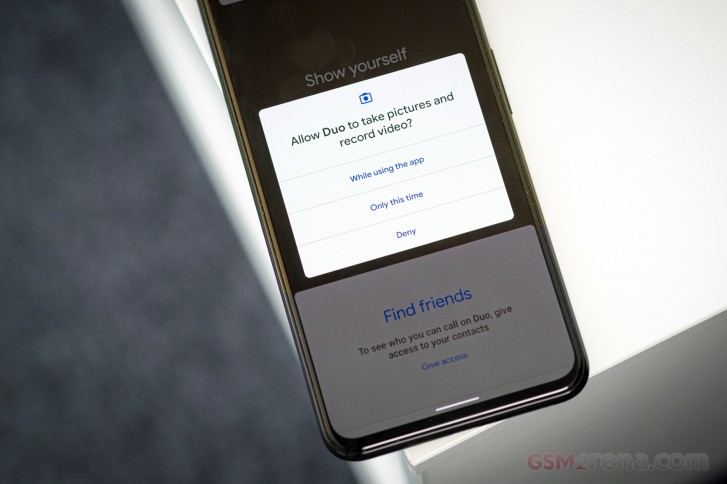 With Android 11, users will now have the ability to grant permissions to applications on a need by need basis. This means, if you want to use location-related features on an app, you can just grant that app permission to access your location one time, and as soon as that instance is closed, the app no longer has location access.
This feature was previously seen on iOS 13 and it works quite brilliantly. More often than not, we only need to use certain features of an app a handful of times but end up granting it eternal permission to do what it pleases with it in the background. Even if you are diligent about it, it was still a hassle to manually revoke a certain permission after use.
On Android 11 devices, you will now see a new prompt for permissions every time an app requests it. You can deny permission, allow it only while using the app, or just for this one time.
If an app requires constant access to permission, you also get a fourth option that takes you to a setting page where you can provide it. The way this is done prevents the user from accidentally selecting this option while blazing through the permission dialogs.
For most applications, you don't really need to give constant access to most features, so the allow while open option should suffice.
Google has also reworked how background location permission works. For an app to require background location, it first needs to ask permission for foreground location. Once the user grants that, then a separate dialog will appear, which will take the user to the Settings app to grant background location access. Once again, these deliberate steps will prevent users from just rushing through the permission dialogs and give access to something they don't want or need.
The next feature is something that even iOS does not have. With auto permission resetting, your Android 11 devices will eventually revoke permissions for apps that you haven't used in the foreground for the past few months. Of course, the system allows exclusion from the auto revoking for apps that are primarily used in the background such as family safety apps, data syncing apps or apps communicating to smart bands or watches.
Both changes to permissions are excellent and help close the gap between Android and iOS when it comes to user privacy. Whether you are an existing Android user or someone switching over from iOS, no longer do you have to worry about apps having unrestricted access to your data in the background.
Having said that, Google still needs to do better in terms of showing when your data is being accessed in the background. Starting with Android 10, you get a generic icon and a notification if an app accesses your camera or microphone in the background. These are easy to ignore, dismiss, or even disable. Some OEMs like OnePlus instead show a permanent camera icon in the status bar if the camera is active whether in the foreground or background. And Apple recently added icons to show both microphone and camera access with orange and green icons respectively, which appear on the status bar. Something along those lines would be a lot more helpful than a generic notification telling you an app is running in the background.
Screen recorder
For those on OnePlus, Xiaomi, Samsung, and a whole bunch of other OEM devices, this isn't going to be very important news but Android finally has a built-in screen recorder, which should be great news for anyone on a Pixel phone.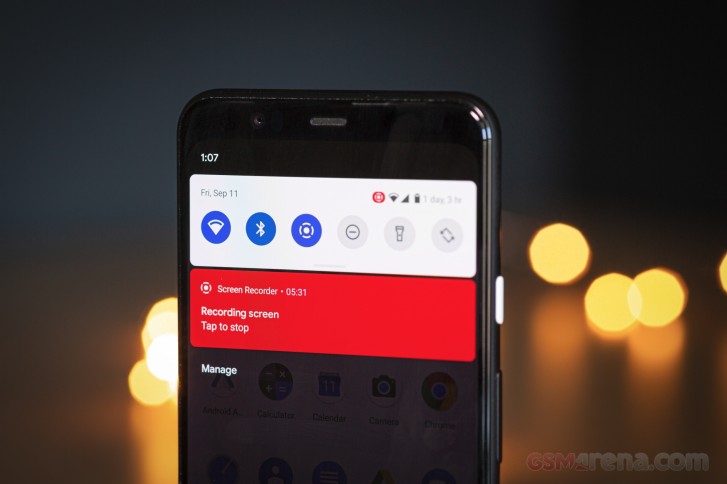 Google hasn't tried to reinvent the wheel here, and the implementation is similar to what we have seen on other Android phones (and on iOS before that). You access the option from the Quick Settings panel, which then shows a popup menu where you can quickly toggle a couple of options. You can choose to have the audio recorded from the device, device, and the microphone, or not at all. You can also choose to have touches be visible on the screen.
There are no options here to choose your resolution, frame rate, or bit-rate like some other OEMs offer. We don't really think those are important anyway so you're not really missing out on those here. Videos are recorded in 60fps at the display's native resolution every time.
It's unfortunate that Google took such a long time to include this feature in Android. Apple had this feature with iOS 11, and other Android OEMs had it within a year of that. Google was also slow to incorporate native screenshots back in the day (it was added in Ice Cream Sandwich while the iPhone had it since day one), so we should probably be glad it didn't take that long for screen recording.
Device control
Android 11 has a completely overhauled the power button menu. The focus now is less on turning your device off and more on all the smart home devices around you. Depending on what you have configured, you will see things like your smartwatch, lights, security cameras, smart locks, etc. along with any Chromecast or Google Nest devices in your house. The goal is to give you a single, easy to access place to control all of your smart devices.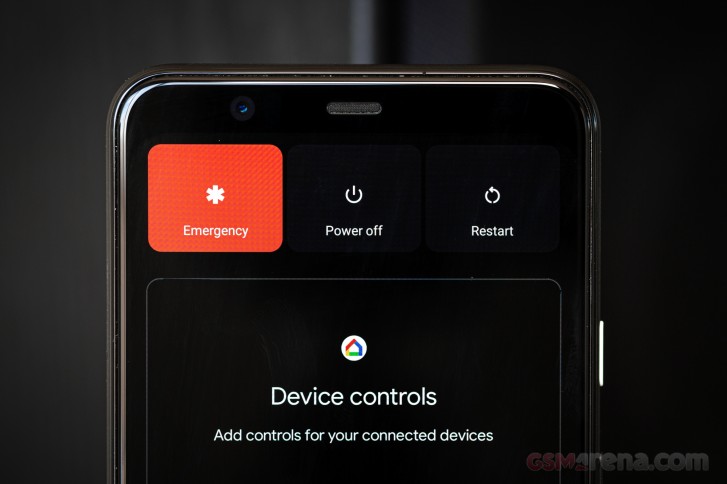 Admittedly, we don't have any smart home tech installed, so other than a few Nest and Chromecast devices, we didn't have a ton of devices showing up in our Home section. The Google Pay service is also not present in this region to test the payment system, which is also visible in this section if you have it configured.
The redesigned power menu with the device controls could be useful to those who frequently use smart home devices or use the Google payment system. However, if you are not one of those people, it does seem like a dramatic overhaul of a UI that is mostly of no use to you. If all you need to do when you press and hold the power button is access the power and restart buttons, then those are now just a bit harder to reach.