Earlier this week, AuTuTu released its top 10 list of the highest performing smartphones tested in July. On Friday, AnTuTu released a new list, ranking the top 10 SoCs (System on a chip) for the first half of 2020. The top chipsets range from a score of 249151 all the way to 401108.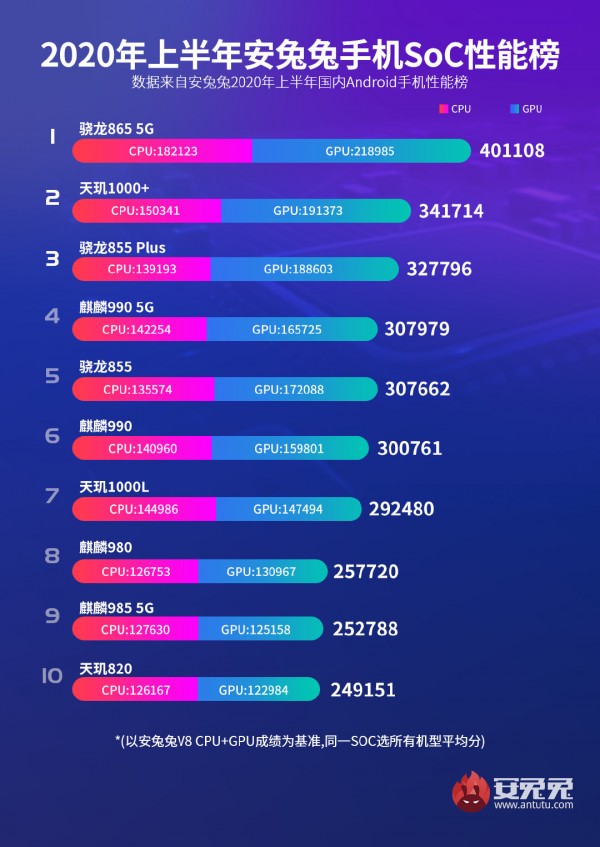 The top three rankes on the list were the Snapdragon 865, the MediaTek Dimensity 1000+, and the Snapdragon 855+. MediaTek is a new contender in high-end chipsets, and the Dimensity 1000+ has its 5G integrated into the SoC's modem. The Snapdragon 865 must use a separate X55 Modem for 5G support.
The next three spots are taken by the Kirin 990 5G, the Snapdragon 855, and the Kirin 990. These SoCs all scored in the lower 300,000s. The last four are the Dimensity 1000L, the Kirin 980, Kirin 985 5G, and the Dimensity 820.
You might be wondering why no Exynos chipset appears here. That's because this top 10 list only counts "domestic Android mobile phone performance". AnTuTu's domestic market is China, and Samsung's flagships headed for China (and North America) use Snapdragon chips.
Qualcomm leads AnTuTu performance scores, and MediaTek is finally making the effort to compete at the Qualcomm level, though still behind a notable gap in scores.
J
sorry, I meant the android.master guy said that. And I didn't mean iPhones annihilated androids, I said they should have scored higher.
?
Well when did I say that iPhones annihilated androids in speed tests? You said and implied that no phone could beat the iphone. So yeah you basically did.
?
Where's your proof? Oh yeah you don't have any.
ADVERTISEMENT