The high-tech industry analyzers from Canalys have published their report on the smart smartphone market in the first quarter of 2010. Shipments rose nearly 67 percent to reach more than 55 million units globally, with HTC, Motorola and Apple gaining the most in terms of market share.
All major manufacturers have increased their smartphone sales in Q1 of 2010, compared to the same period of the pervious year. Motorola's growth is most impressive at almost 137 percent (2.6 million units vs. 1.1 million in Q1, 2009), while RIM "only" achieved a 45 percent increase (10.6 million vs. 7.3 million).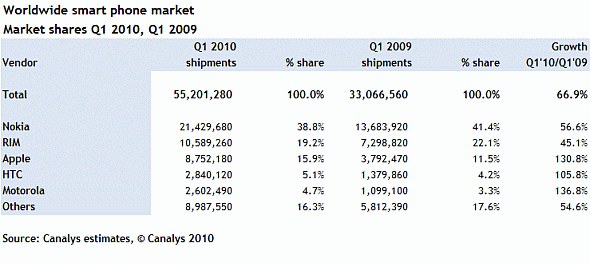 The second part of the report reveals that almost 60 percent of all smartphones sold for the first three months of this year were touch-driven, while 27 percent packed a QWERTY keyboard. The share of devices equipped with a standard 12-key keypad fell dramatically from 37.2 percent to 13.5 percent.

This quarter is also the first time when touchscreen phones represented over 50 percent of Nokia's smartphone shipments, which were historically dominated by the keypad-based candybar form factors.
S
I appreciate your post. I also wrote that SMS advertising provides a cost effective method of targeting promotions to specific customer profiles. You might want to remind customers of specific events or promotions, but for whatever reasons, SMS allow...
?
Whatever ... To each his own. You like Apple, you like HTC, you like Moto ... Great. Competition is better for the consumer. It's usually not a good thing if a company goes under. The more players the better.
?
this is easy to get good growth rate if the its a new player. like this year sold 1, next year sold 10, then what will be the growth rate
ADVERTISEMENTS