Apple iOS 13 arrives with the new iPhones
The newest iPhones always comes with the latest Apple iOS, and that's the case with the iPhone 11 series. They all run on the iOS 13 out of the box, though we received and installed the iOS 13.1 update on September 24.
The iOS 13 is another major update of the iPhone OS, bringing a new system-wide dark theme, improvements to battery life and charging, and updates a couple of the default apps with new looks and features - Photos, Maps, Reminders. Sign-in with Apple ID is part of iOS 13, too, and there is a more detailed control over location access.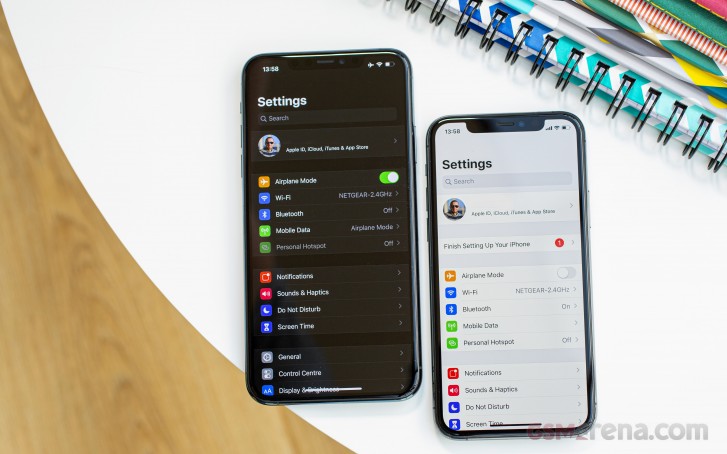 With the previous iOS 12 Apple introduces grouped notifications, Screen Time, better DND mode, and expanded battery stats. One of the biggest changes that iOS 11 brought back in 2007 was the unification of the lockscreen and notification center.
Now, let's take a look at how things are done on them iPhones.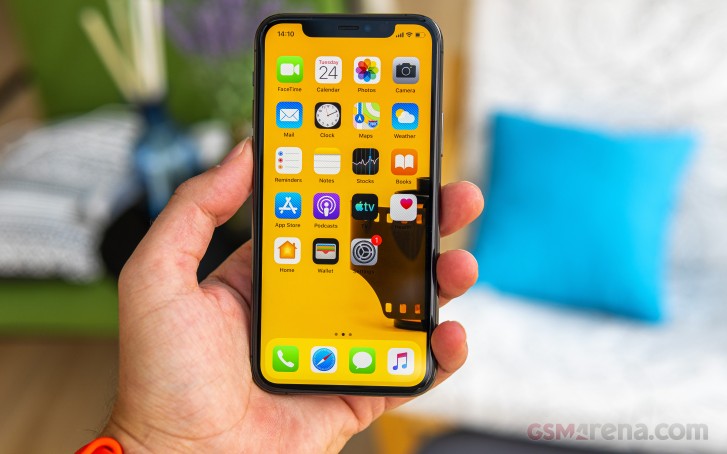 The iPhone 11 trio has one biometric security feature, and that's Face ID. It hasn't changed much since its introduction within the iPhone X, though now the that the new iPhones have a bit wider lens on their selfie cameras, Apple claims the Face ID works at wider angles. Well, we tried it, and even though this upgrade sounds reasonable in theory, it was hard to see and feel the improvement.
All iPhone 11 phones support Face ID and you can add a second face as Alternate Appearance option.
The lockscreen is pretty simple - it has two shortcuts - flashlight and camera. Now that the 3D Touch is gone and replaced by the Haptic Touch, you just tap and hold to activate it. Or pretend to press harder, which leads to tap and hold, but your brain thinks it's different.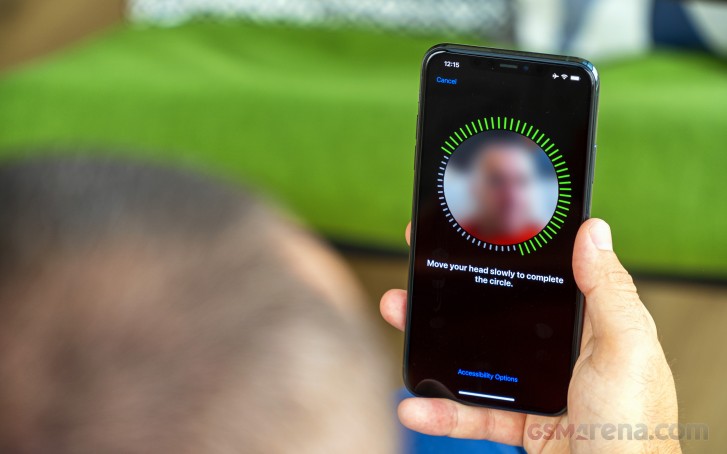 Naturally, apps go on the homescreen, there are no widgets and no separate app drawer, but folders are available. The leftmost Today page is here to stay - it is the place where various widgets go, and it also includes a system-wide Spotlight search field.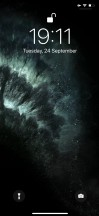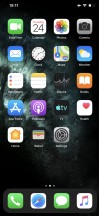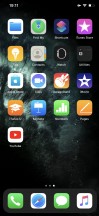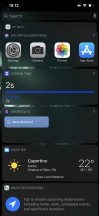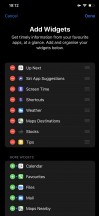 Lockscreen • Homescreen • Homescreen • Today • Today settings
The navigation gestures stay the same as they were on the iPhone and the always-visible line at the bottom is here to stay. Swipe upwards from that line to close an app, swipe and stop midway for task switcher.
The Notification Center is summoned with a swipe from the left horn, but the gesture also works from the notch, too. The pane was unified with the lockscreen in iOS 11, and if you use different wallpapers for home and lock screens, you may get confused at first.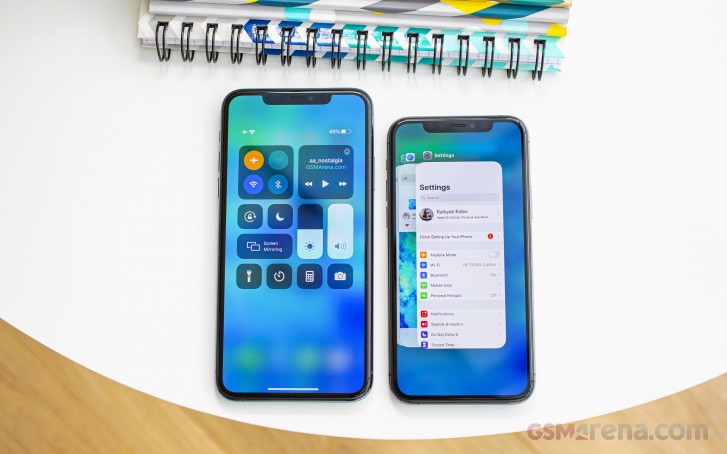 The Control Center with all your (customizable) toggles, is called with a swipe from the right horn. You can use haptic touch to access additional controls. And the battery percentage has been moved permanently here because there is no room left for it on that status bar.
And here is a quick reminder of how weirdly some of the Control Center toggles work. A tap on Wi-Fi or Bluetooth disengages all connections, but it doesn't turn off these features. According to Apple this way you will keep AirDrop active and yet won't be connected to anything until the next morning (or until you manually initiate the connection). That's fine, but we have to dig in settings to turn those off when we really need to, which is a step backward.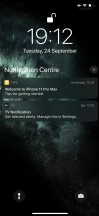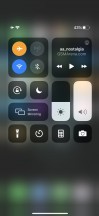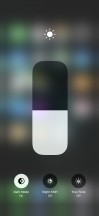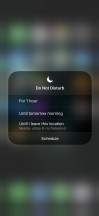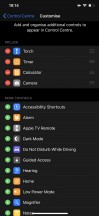 Notification Center • Control Center
3D Touch is gone for good, and we have Apple to blame for its demise. The company had years to use it for something more than just an overengineered long-press functionality for quick previews and context action pop-ups, but it appeared it simply chose to ignore it. Its functionality is still here, but now it requires a mere tap-and-hold instead of an actual press, although a press would do it too. The taptic engine provides the appropriate haptic feedback, and it feels like the 3D Touch is still here even though it's not. And we are glad Apple ditched the 3D Touch layer as it helped free some space inside the phone.
So, you can use the Haptic Touch on various app icons to reveal quick actions, if available. You can also use it for notifications, toggles, and in-app content pop-up or expansion (pictures, links, file descriptions, etc.). You can also use Haptic Touch on folders to rename them or see the apps inside that have pending notifications.
And as usual - a pop-up preview of pictures, weblinks, messages, emails, notes, and photos, is available.
The iPhone 11 Pro Max has exclusive support for enhanced landscape view in some system apps. The Settings app looks different in landscape orientation; the Mail, and Messages, Safari as well.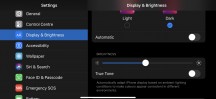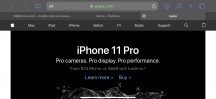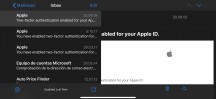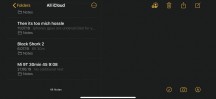 Landscape view in different apps
Apple iOS 13 introduced a systemwide Dark Mode. You can enable it within Display Settings, and it switches to dark all white backgrounds across iOS. The Dark Mode affects all system apps, but also apps that rely on system backgrounds. It will supposedly save you some battery because the screen is often less lit.
You can choose between always-on or automatic. The latter means you can either manually schedule the Dark Mode or choose from Dark Until Sunrise/Light Until Sunset.
Siri - Apple's digital assistant - is used by 400+ million people monthly. You summon it by holding the 'side' key (the Power key). It's continuously evolving thanks to all machine-learning improvements and iOS 13 introduces new voice with even more natural speech.
Siri Shortcuts were introduced as part of iOS 12, but now those get their standalone Shortcuts app. There are so many things you can assign a shortcut to that it will take many pages to describe them. You can script almost anything that's available within iOS itself, a lot of stuff from within the system apps, and some advanced actions from any well-known apps such as YouTube or Facebook.
The scripting option offers opening apps, choose a menu from settings, exit app, if and repeats, get different stats, adjust various settings, turn on or off something, calculate, measure, get network details and whatnot.
You can request various type of files - latest imports from images, different type of images, screenshots, open PDFs, edit notes, print, scan QR, and many more.
The Photos app is a major part of iOS and it has been completely overhauled in iOS 13. The Photos tab now has four different views - Years, Months, Days, and All Photos. The last one is what the previous Photos app offered as default view.
Days, Months and Years tabs use what the AI considers as best pictures at a glance and this way all the clutter get filtered - you won't see screenshots, notes, or even duplicates. When you scroll through your images in these three categories, all live photos and videos will play automatically, muted of course. Also, your best photos or videos will show in bigger thumbnails.
The new Photos app also offers new editing mode - more powerful, and yet easy to use. You can now clearly see what the photo looks before and after the editing, intensity slider is available in many places, there are new options such as vibrance, definition, noise, new filters, among many others.
And same goes for videos. There is a powerful video editor included within the Photos app. You can adjust exposure, highlights, contrast, saturation, brightness, among others.
The Photos app is optimized for the new Capture Outside the Frame option in the camera. If you allow this, the phone will save outside the frame of the main camera (thanks to the new ultrawide snapper) and the Photos app will suggest later to crop outside the shot frame if for example people were cut from a group photo.
The rest of the iOS app package is quite familiar - Books is here for your documents, PDFS, and eBooks. Stocks and News are onboard. Safari is your default web browser and it has Download manager now.
There is also an updated Health app with improved summary, highlights, and new cycle tracking feature.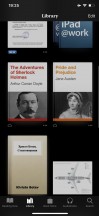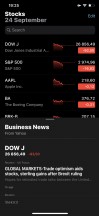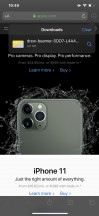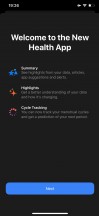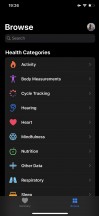 Books • Stocks • Safari • Health • Health
Apple Maps has been updated with new Junction view, better voice navigation, real-time schedules, flight status and gates at airports, and a new Look Around feature that's basically Street View. Look Around for now works only in some parts of California, Nevada, and Oahu.
The Apple TV app is part of iOS 13, and it is your default video player local movies and shows you've added via iTunes. This is also the digital store for movies and TV shows, but it is also the place where Apple TV+ streaming service will launch in just a month, and all new iPhones will come with 1-year free subscription.
Music is the default player and it relies heavily on Apple Music. But even if you decide not to opt for the streaming service, it can still do an excellent job if you have a few minutes to add your songs via iTunes. The number of clicks is the same as if you were to copy them via Windows Explorer, but the prejudice against the app quadruples those.
Finally, Apple pushes Apple Pay even more with iOS 13, and there is a new feature called sign-in with Apple. You can use this in iOS 13 to quickly sign into apps with your Apple account, authenticating with FaceID or TouchID (and with two-factor authentication included). Apple will send the app a unique random ID. If an app demands your email address, you can choose to give it your actual email, or a random one automatically created by Apple for you with built-in forwarding (and these throwaway emails are actually per-app, so you can delete only one that's associated with a specific app if you choose to).