Today, at Macworld 2007 Apple announced the long-awaited iPhone - a widescreen iPod, a mobile phone, a mobile Internet terminal, a digital camera and a portable PIM organizer all-in-one. Some of the most exciting features of the iPhone include the OS X it runs on and touchscreen control with multi-finger gestures with no need for a stylus whatsoever.
Equipped with 4 or 8GB of integrated memory, the Apple iPhone has got more than the needed storage space to bring your photos, videos and music to life straight into your palm. It's much like iPod in that respect and features a large 3.5" touchscreen TFT display with a resolution of 320x480 pixels. But unlike an iPod it can take pictures with the integrated 2 megapixel camera. It even has an accellerometer which allows it to tell whether you are holding the device in landscape or portrait mode so that it can turn the display orientation correspondingly. And all that mobile virtuosity comes at the meager thickness of 11.6 mm.





Audio player • email client • maps • stocks
A quad-band GSM/EDGE mobile (sorry, no 3G/HSDPA support), the iPhone is a truly amazing smartphone that can not only make and receive calls, but can also store your contacts, tasks, notes, calendar events, etc., as well as synchronize them seamlessly with the PC. If that's not enough the device also has Wi-Fi (802.11b/g) and Bluetooth 2.0 support. Some sweet highlights of the device are the Proximity sensor, which turns the display off when you lift the iPhone to your ear, as well as the Ambient light sensor that automatically adjusts the display's brightness.





Web browser • virtual QWERTY keyboard • in-call menu • voicemail
The other strengths of this multimedia device are more or less Internet-oriented, since the iPhone offers exceptional web browsing capabilities thanks to the Safari web browser with integrated Google search plus the Google Maps application that can take you all over the world - unfortunately without a GPS receiver. The user experience can be further enhanced through the use of various widgets, well-known and loved by all users of the Mac OS X.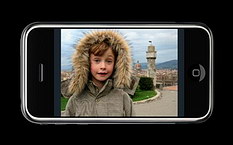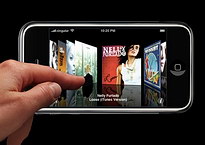 Photo viewer • browsing music albums
Apple would be offering the iPhone to end customers in USA through the Cingular networks. Unfortunately, the device is expected to become commercially available in June 2007 only after it's approved by the FCC. Market availability in Europe is expected no sooner than Q4 2007, and as late as early 2008 in Asia. Initial pricing in Cingular networks will be 499$ for the 4GB model and 599$ for the 8GB one - both with a two-year contract.
a
my iphone do not turn on.he's blocked.i dont know i do it to open this phone
ADVERTISEMENTS