The latest research from IDC shows that Apple maintains the first position in Q1 2019 on the global wearables market but Huawei and Samsung are closing the gap at an impressive rate. In fact, Huawei, Samsung and Xiaomi posted the biggest growth in Q1 2019.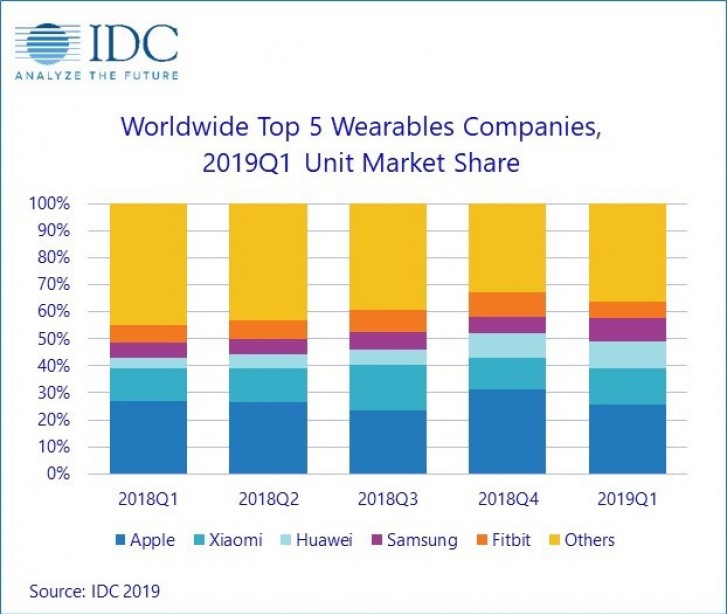 According to the report, Huawei tripled its sales for that period at around 282% surge compared to last year - 5 million units were shipped. However, Apple was still able to deliver more wearables reaching 12.8 million sales and Xiaomi boasting 6.6 million units. Samsung settled for 4.3 million and Fitbit takes the 5th position with 2.9 million wearables.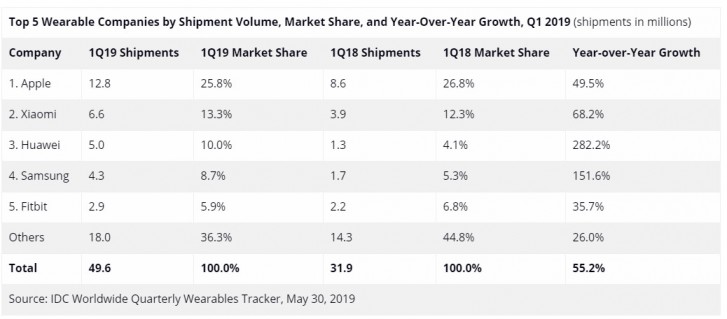 Of course, all five manufacturers recorded a year-over-year growth, but Huawei takes the lead in this regard. Samsung also boasts impressive growth figures at 151% and Xiaomi taking the third place with 68% year-over-year growth.
Still, Apple continues to dominate with 25.8% market share with Xiaomi coming in second at 13.3% and Huawei occupying the third position with 10%.
And here are the stats just for the wrist-worn devices.

The research manager for IDC Mobile Device Trackers says that the elimination of the headphone jack and the growing popularity of smart assistants are the driving factors for ear-worn wearables and the trend will continue to go upwards.
T
But still no 2.1H for HW2
K
And then ytou wonder why the Note 10 will probably be missing the headphone jack. Those expensive wireless headphones, those astromical sale figures for dongles......Samsung wants it too. Damn.