Apple has just rolled out an update to iOS bringing it to version 6.1. The latest iOS brings LTE support for 36 additional carriers offering the iPhone and 23 offering the iPad.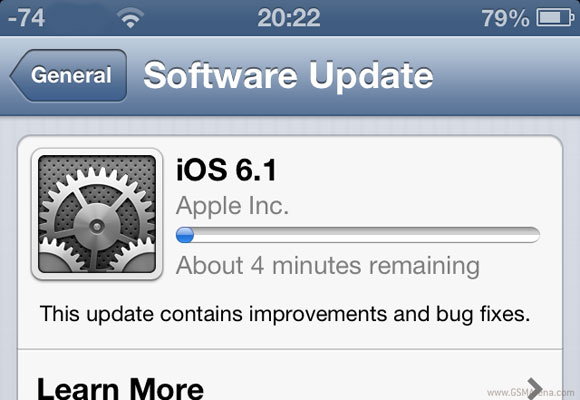 Siri is also updated and allows you to purchase movie tickets right off the app. For now, however, this feature is available only in the US. iTunes Match is updated as well giving its users the ability to download individual songs off iCloud.
Finally, there's a new button that allows you to reset the Advertising Identifier in addition to lots of other minor, under-the-hood bugfixes.
Available as a free download, the iOS 6.1 update is up for grabs for owners of the iPhone 5, iPhone 4S, iPhone 4 and the iPhone 3GS, the iPad (third and fourth generation), iPad mini, iPad 2 and iPod touch (fourth and fifth generation).
?
I work tech support for one of the top 3 cell phone providers, every single phone out there has some type of "issue". Manufacturers plan for their phones to last about 1-2 years......so you"ll keep purchasing their product. Cell phones...
B
Is anyone having issue with ipad mini wifi connection??ive bought it yesterday...when I use hotspot on my iPhone...it seems faster than my wifi..my wifi have no problem...I'm still playing games with my desktop...can anyone give some advice??
S
MAJOR BUG!! Cant Change the Lockscreen Wallpaper :(
ADVERTISEMENTS