Today we were nicely surprised to see iTunes greet us with the latest iOS 4.3 software for the iPhone 3GS and iPhone 4 well ahead of schedule. The update brings a handful of improvements including faster web browsing, iTunes Home sharing support, enhanced AirPlay support and, of course, the Mobile hotspot functionality.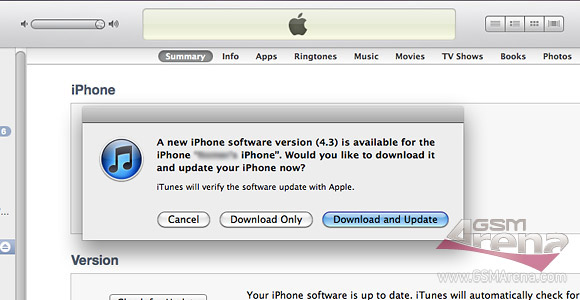 In general, there's nothing new we didn't already know about. Nevertheless, the update is a major step forward for the devices lucky enough to get it.
We, personally, welcome the new Safari Javascript engine, which is noticeably quicker than the old one. A performance improvement is always welcome. The update also brings support for the newly released Apple Digital AV Adapter, allowing you to output 720p video to your HDTV.
Don't waste any more time, jump right ahead to your iTunes to get the download. Don't forget to share your thoughts on the iOS 4.3 in the comments bellow.
p
The Iphone is not the best phone ever despite what people say, It is a good phone but your paying more for the features as your paying for the apple brand , take a look at the features it has alot of the android phones have similar if not the same ...
?
iPhone is not the bee's knee's let me tell you! Without an Applecare protection plan for 2 years, your more then likely going to end up with a fault and need a new/replacement phone, and even then the service is a new/refeurbished iPhone. HTC all the...
w
iphone is the best....u cannot compare any phone model with iphone...iphone have own class ....this is the fact...iphone is the best...
ADVERTISEMENTS