More than meets the eye
Asus Zenfone 3 ZE552KL review: More than meets the eye
Cloud-friendly gallery
The Asus Zenfone 3 gallery groups photos and videos into albums, but if you give it permission to your calendar, it can read events from there and use those for grouping. The app can also go through your contact list (with your permission) and link photos to the people in them.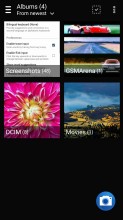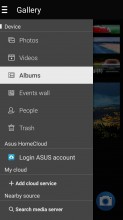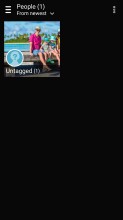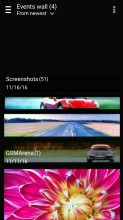 Album view • A variety of options • Face recognition groups photos by people • Events based on calendar
The gallery supports a wide array of cloud storage services - from Asus's WebStorage, through Google Drive, Microsoft OneDrive, Dropbox, and Flickr. Social networking accounts work too - Facebook and Google+. The privacy conscious, can run Asus HomeCloud on their computers and use that as a cloud service or just good old DLNA.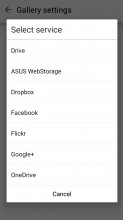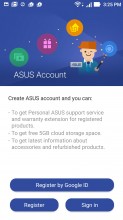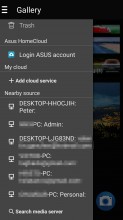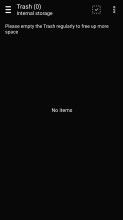 The gallery supports many cloud services • Also Asus cloud • DLNA too • Trash folder like on your computer
We like the Trash folder - it houses photos you've deleted, in case you change your mind later on. It means you have to delete photos twice if you want them permanently gone, though. You can lock the gallery app so it can only be opened with a PIN or pattern (but not the fingerprint reader, sigh). We wish this worked for individual photos/folders, instead of just locking the app wholesale.
You also get the Asus MiniMovie app, which lets you select a bunch of images and turn them into a short video of sorts, with music, transitions, and the lot, which you can customize, of course. If you're not that creative, the Treasure store offers a variety of themes and components (e.g. sound clips).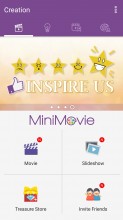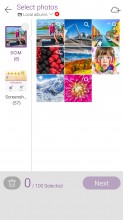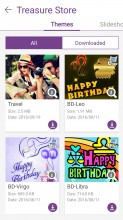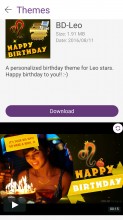 MiniMovie • Picking photos • Downloading themes • A birthday theme
A handy collage feature is also on board, and it's pretty comprehensive, with a host of aspect ratios, templates, and backgrounds. Both apps do "recaps" - automatically created videos or collages that feature recent photos you've taken, a similar feature to Google Photo's assistant.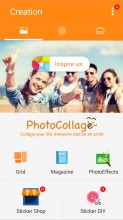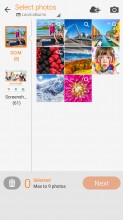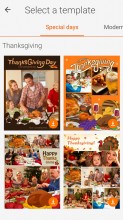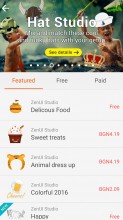 The CollageMaker • Picking photos • "Magazine" templates • Downloading stickers
The built-in image editor features the usual effects, frames and image adjustments, but there are dedicated tools for selfies too - soften the skin, add some blush, thin the cheeks and so on.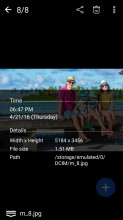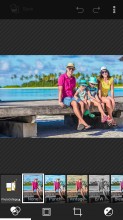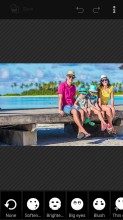 Image info • Editing an image • Selfie editor
The video player is part of the Gallery and is very basic. It remembers the last playback location for clips so you can resume the video from where you left it, but that's it.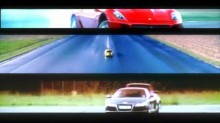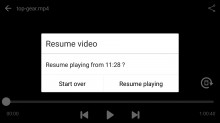 Basic video player • It's only feature
Google Play Music
The excellent Asus music player is gone, only Google Play Music is on board. Don't get us wrong - we like Play Music just fine, but if Asus can pre-install Amazon Kindle and TripAdvisor then it shouldn't have issues loading in a second music player too. Again, the Zenfone 3 does not quite come with a minimal app package out of the box.
Anyway, Google Play Music recently borrowed some of the Assistant smarts and now uses contextual clues - location, time of day, even weather - to pick out the most appropriate playlist, e.g. a workout mix when you're at the gym.
We mentioned it earlier, but it bears repeating - the Zenfone 3 ZE552KL has a Hi-Res audio certification and can play 24-bit/192kHz sound (advertised as 4x CD quality).
Asus did leave the AudioWizard, which offers enhancements for music, but also every other kind of audio - from audio books to gaming. All of those have the same selection of options, but they can be tuned separately. The Smart option activates the right mode automatically.
The AudioWizard gives you access to adjustments for volume, bass and treble and there's a dialog enhancer too. A manual 5-band equalizer is also available if you want finer control.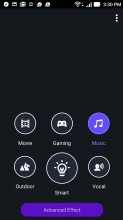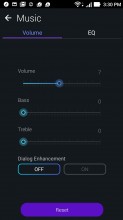 AudioWizard • Basic settigns • 5-band equalizer
FM Radio with terrible reception
The Asus Zenfone 3 ZE552KL features an FM radio, but we found the reception was spotty on occasion so you may hear noise when you're at the edge of reception. RDS worked and you can listen through the loudspeaker (you still need the headphones plugged in). There's a sleep timer, but no option to record broadcast (like you can record a call).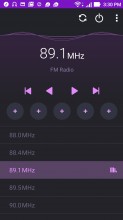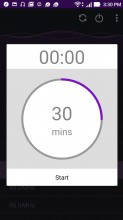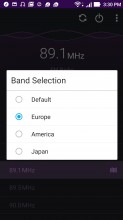 FM radio app • Sleep timer • Band selection
Audio output is impressive clear, pretty quiet
The Asus Zenfone 3 delivered perfectly clean output when hooked up to an active external amplifier. The scores were excellent top to bottom, and there were no weak spots to be noted. Volume was below average, though, so it's not all perfect.
Impressively enough there was next to no degradation when headphones came into play. Even stereo crosstalk barely moved, making this one of the best readings we've seen in this test. However, volume levels plummeted further so if you have particularly high-impedance headphones you might not be perfectly happy, but for most people, the Zenfone 3 will be as good as they come.
Anyway, here go the results so you can do your comparisons.
| | | | | | | |
| --- | --- | --- | --- | --- | --- | --- |
| Test | Frequency response | Noise level | Dynamic range | THD | IMD + Noise | Stereo crosstalk |
| Asus Zenfone 3 | +0.03, -0.30 | -86.6 | 83.6 | 0.0017 | 0.049 | -91.1 |
| Asus Zenfone 3 (headphones attached) | +0.06, -0.03 | -92.4 | 92.4 | 0.0018 | 0.021 | -88.2 |
| Xiaomi Mi 5s | +0.01, -0.03 | -89.6 | 90.2 | 0.0029 | 0.040 | -85.5 |
| Xiaomi Mi 5s (headphones) | +0.71, -0.31 | -82.9 | 84.8 | 0.229 | 0.559 | -48.0 |
| LG G5 | +0.01, -0.04 | -92.6 | 92.6 | 0.0051 | 0.0096 | -93.3 |
| LG G5 (headphones) | +0.05, -0.01 | -92.2 | 92.3 | 0.0029 | 0.037 | -50.7 |
| ZTE Axon 7 | +0.06, -0.10 | -92.4 | 92.3 | 0.0015 | 0.0093 | -80.9 |
| ZTE Axon 7 (headphones attached) | +0.03, -0.11 | -92.3 | 92.3 | 0.0011 | 0.012 | -77.0 |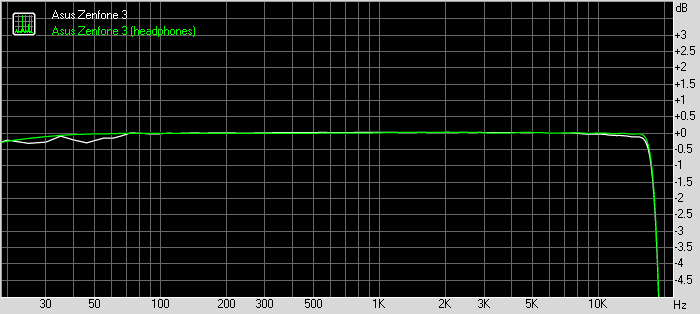 Asus Zenfone 3 frequency response
You can learn more about the tested parameters and the whole testing process here.