The new Nokia Lumia 920 flagship for AT&T has sold out in every color but white at the major US retailers.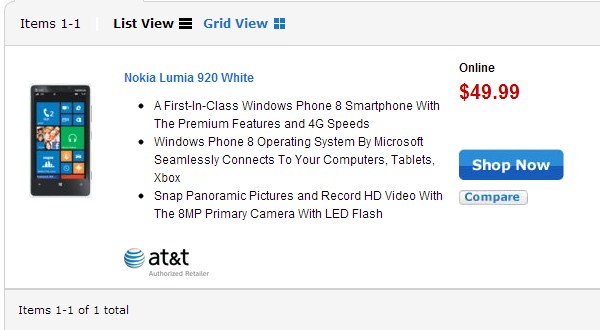 Among the first colors to get gobbled up were red, yellow, and cyan off of Amazon and Walmart's online store, as well as AT&T's own website.
The huge demand really comes as no surprise, considering the very enticing $49.99 price tag which AT&T is putting on the 920 with 2 year contract.
Hopefully AT&T will be able to fulfill all of the Lumia 920 backorders, as the last thing Nokia needs is a supply shortage while trying to salvage a horrible 2012 sales season.
e
People loved Nokia. I hate the ceo who effectively killed Nokia, insults competitors, insult potential customers like me. He implied everyone who uses a dual core phone is stupid and now he wants to sell a dual core phone to the world? Why will anyon...
t
Still don't understand why there is so much hate. You like something doesn't mean you have to hate other people for liking something else. Really happy for nokia anyway seems like they are slowly making their way back into the market. Rooting for nok...
ADVERTISEMENTS