The AXIA A108 is the world's smallest PDA phone based on the Microsoft Windows CE .NET 4.2 OS. It is also the first candy bar PDA phone on the Microsoft platform to feature an alpha-numeric keypad. The device looks more like a phone then a PDA and measures 110x48x22mm and weights 120g. It is designed for the mobile phone user who desires the convenience of a small, handy device - much like the mobile phone he is familiar with - that also delivers all the capabilities of a PDA. The idea behind an alpha-numeric keypad is to enable the user to easily input messages for SMS and email, using just one hand.
The AXIA A108 features tri-band (900, 1800, 1900 MHz) GSM and GPRS Class 10 connectivity. The phone will also be the first PDA phone that integrates a 1.3MP CMOS camera with 240x320 to 960x1280 photo resolution in JPEG format and a 2.2", 240x320 (QVGA) pixel resolution touch screen at 262K colors. The AXIA A108 offers a video and voice recorder/player, mp3 player, games, instant messaging, Microsoft Word and Excel document editor, mini SD expansion slot, IrDA and a loudspeaker. The supporting formats are as follows: 1) video formats - MPEG 4 and H.263 up to 30 frames per second 2) audio formats - recording in AMR NB and AAC formats.
The battery is a powerful one - 1300 mAh and offers up to 3.5 hours of talk time and up to 150 hours of standby time.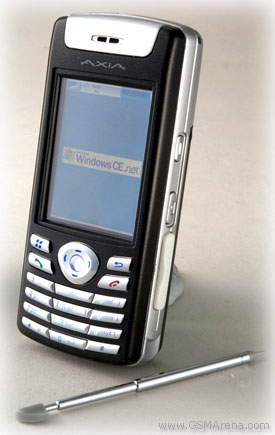 G
Good morning, i want to buy battery and charge for model Axia A108, where can i buy
S
Where can I obtain AXIA PHONE A 108. Iam in Tanzania.
ADVERTISEMENTS