BlackBerry App World is where all the app are
The BlackBerry App World is the RIM application distribution solution. Quite well organized, it accepts payment by credit card or Paypal. Some you can get for free of course.
You can manage your apps on a computer or directly on the device itself.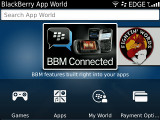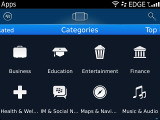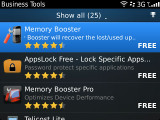 The BlackBerry App World mobile client
There's a basic filtering system as well - it allows you to check out the highest rated free and paid applications, as well as the newest releases. In general there's hardly anything to complain about in terms of interface.
The number of applications isn't as impressive as in the App Store or the Android Market at just over 14500 apps, 3500 games and 12000 themes, and to make it worse only a small fraction of the titles are actually free (though some of the paid apps offer free trials).
BlackBerry Maps works only with a BIS plan
As one would expect nowadays, the BlackBerry Curve 9360 is equipped with a built-in GPS receiver and comes with A-GPS support. For navigation you get BlackBerry Maps preinstalled. Unfortunately it is yet another application that only works with a BlackBerry internet plan activated. And the only navigation option you get is directions.
To get directions you can enter an address straight from your phonebook and you can also save your favorite spots so you don't have to type them every time.
BlackBerry Maps also allows you to send your location to anyone via email or SMS, and that rounds off a decent but certainly not spectacular application.
Also, addresses that are included in messages are automatically detected and can be displayed on the map at the expense of a few clicks. The map data has also been updated to include more cities. We can still think of at least several apps with more detailed maps, but let's not get too picky here.
Final words
Comfortably compact and impressively slim, the BlackBerry Curve 9360 looks good and works hard to meet your needs. The newly-found skill makes it the definitive upgrade for anyone coming from a previous generation of the Curves. Even Bold 9700 and 9780 owners, who are trying to steer clear of touchscreen, can give it a thought.
QVGA screens and low-spec'd cameras are a thing of the past. The lineup has moved on with confidence and style - the 9360 is the best Curve experience to date. Take out the VGA touchscreen and the 1.2GHz processor (oops, HD video goes with it!) and it can nearly match the flagship.
The Curve 9360 is lucky too not having to deal with as much pressure as the flagship Bold 9900. It won't be too hard for the Curve 9360 to keep upgraders happy. There're plenty of old Curves, Pearls and even old enough Bolds whose owners will be happy to get the latest OS version in a good-looking and well featured package.
The competition doesn't seem to be at its fiercest either. Android messengers and Eseries touch phones are likely to do more damage to the Bold and the Torch. There's an extra line of defense too in the Curve 9380. The touchscreen alter ego of the Curve 9360 is basically the same phone inside - for both hardware and software. The 3.2" HVGA+ touchscreen just costs a few euros more.
As for the droids, they can successfully compete with the Curve 9360 for the young social texters, not so much for the hard-core business user.
The Sony Ericsson Xperia pro, which we recently reviewed, has a LED-backlit Reality display with Sony Mobile BRAVIA Engine, an 8 megapixel ExmorR camera sensor, 720p video with continuous autofocus, and the latest Android 2.3.4. It costs about the same as the Curve 9360.
Arguably, the just released Motorola PRO+ matches the business messenger profile somewhat better. It runs Android 2.3 Gingerbread and packs a 1GHz processor, a VGA touchscreen, a 5 megapixel camera with HD video recording.
The Samsung Galaxy M Pro B7800 even throws in an optical trackpad to mimic the BlackBerry experience. With a 1GHz processor and the latest Android, it doesn't seem underpowered at all. It's quite slim too.
None of these otherwise fine smartphones though seems to directly threaten the Curve 9360. It's not just the form factor or the lack of touchscreen. It's the years of BlackBerry experience that many users will find hard to put behind.
RIM may not be the standard-setter in touchscreen, they're less than stellar in tablets and obviously suck at saying sorry. But they don't have to prove anything to anyone when it comes to messengers. The Curve may pale in comparison to the massive effort invested into developing a whole new touchscreen lineup and the BBX platform. But the BlackBerry Curve 9360 is not a step back. It's RIM back at what they do best.