Telephony is much better looking
Getting some eyesores from the phonebook we went over to inspecting the Storm telephony and we were in for a nice treat this time.
The BlackBerry Storm 9500 in-call screen offers four large and easy to press buttons plus five shortcuts to features you are most likely to need during a call. Those include notes, calendar, contacts, dial pad and home screen. Well that last one might not be what you need during a call but it's the quickest way to an application that is not on the list.
The phone offers good in-call voice quality and we didn't experience any interference at all. Some user reports suggest a faulty antenna on the Storm resulting in reception issues at times but this may be a unit-specific problem.
We also performed our traditional loudspeaker test on the BlackBerry Storm 9500. We weren't overwhelmed but the Storm still snatched a good score, meaning missed calls are only likely in noisier environments. More info on our loudspeaker test as well as other results can be found here.
| | | | | |
| --- | --- | --- | --- | --- |
| Speakerphone test | Voice, dB | Pink noise/ Music, dB | Ringing phone, dB | Overall score |
| Apple iPhone 3G | 66.1 | 62.1 | 71.7 | Below Average |
| LG KC910 Renoir | 71.9 | 65.6 | 72.0 | Good |
| BlackBerry Storm 9500 | 75.8 | 65.0 | 72.7 | Good |
| BlackBerry Curve 8900 | 75.7 | 66.6 | 75.3 | Good |
| Nokia 5800 XpressMusic | 75.7 | 66.5 | 68.5 | Good |
| Samsung M8800 Pixon | 75.7 | 69.6 | 82.1 | Very Good |
| HTC Touch HD | 77.7 | 73.7 | 76.7 | Excellent |
Messaging the BlackBerry way
The BlackBerry Storm 9500 can handle all common types of messages - SMS, MMS and email. It also has the BlackBerry instant messenger preinstalled.
The Storm has a fairly simple and easy to use organization of the messaging department and all messages are composed through a common editor.
It's about time we discussed the text input methods available on the Storm in more detail. The handset offers a choice of three keyboards and we did find them all pretty pleasing. In fact the landscape virtual QWERTY keyboard is almost as good as a regular hardware keyboard and that is an achievement we never thought possible.
Let's start though with the regular multitap keypad. There is little to tell you about it, save for the fact that the predictive writing works much better with the touchscreen because you can simply select the word you want to write from the possible options.
The good old BlackBerry SureType keypad is already making its way on several other platforms and that's for a very good reason. It's easy to type on and if you master the AutoText (that's the BlackBerry T9 alternative) you might be a match for the QWERTY typers at times.
Of course users are free to choose whether the SureType or the multitap keypad should appear by default in landscape mode.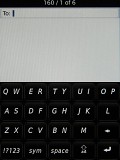 SureType has now become a synonym for BlackBerry
Finally we come to the real deal - the landscape QWERTY keyboard. It takes slightly more than half the screen and comes in a four-row layout. Keys are large enough and with the display sinking on every press you can really hit a quick typing tempo.
The feedback provided is both visual (blue halo appears when a key is touched) and physical and that produces excellent results.
The bad part is that the blue halos aren't as easy to see as the pop-ups on the iPhone QWERTY thumboard but for people that don't have extremely large fingers they will do.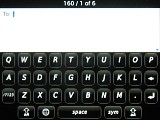 The QWERTY keyboard in its full shine
So far so good with the BlackBerry messaging department - the handset is behaving perfectly when it comes to text entry. Now the bad news: out of the box you can only set up BlackBerry Internet Service email accounts on the Storm. This means that purchasing the handset without a proper Blackberry service plan will give a just plain email-less device and globally there are quite a lot of carriers that do not support BIS yet.