The wait is finally over for the Ubuntu OS to become commercially available on a smartphone. As planned, the BQ Aquaris E4.5 Ubunto Edition is being launched today in Europe.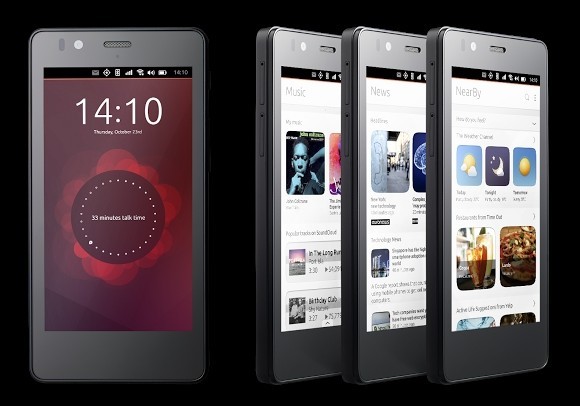 The Aquaris E4.5 is not an entirely new device, it's been available for some time booting Android KitKat. The specsheet of the smartphone is nothing to write home about, but it's still a balanced package.
The name reveals the screen size of 4.5 inches, and the qHD resolution of the IPS panel results in a pixel density of 244ppi. Running the show is a Mediatek chipset with its Cortex-A7 CPU clocked at 1.3GHz. A single gig of RAM is onboard as well as 8GB of internal storage, of which 5.5GB are available to the user. A microSD slot offers expansion up to 32GB.
The dual-SIM phone is limited in connectivity options, only packing radios for 850/900/1800/1900MHz GSM bands and 900/2100MHz 3G. Battery capacity is 2150mAh, stuffed in a 137 x 67 x 9 mm body weighing 123g.
Hardware is not the main topic here, though, the new OS is. The Ubuntu for smartphone has long been in the works, and after years of development British company Canonical has managed to bring it to market. The new mobile OS is unique in concept, ditching the common app grid in favor of content-grouped tabs. Dubbed Scopes, the innovative interface learns from previous experience and aggregates user-specific content in easy to navigate panes.
The BQ Aquaris E4.5 is available online starting today for a price of €170. Stay tuned to the @bqreaders and @ubuntu twitter accounts to find out how and where you can grab one.
D
This phone is mostly for developers and for those who want to know the linux platform...my suggestion dont go for it a lot of things need to get fixed in the os and its missing many features and the videos jus lag behind the sound and to honestly te...
U
I also would like to see portrayed in gsmarena phones bq.
?
Another question that , for when the Spanish brand Bq will have a respectable treatment by the gsmarena .