The smartphone market in Europe saw two major trends in 2018 – Chinese makers take control a third of the market and flagships stumbled. The info comes from the analysts at Canalys, which detailed the issues facing the market.
Western Europe is the biggest sub-region where 128 million units were shipped out of the 197 million total. The European market as a whole is down 4% year over year, but the West in particular saw the lowest shipments since 2013.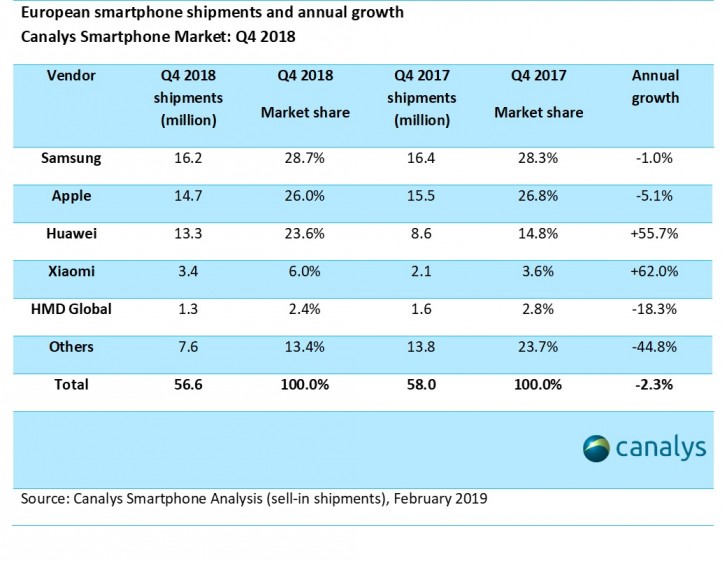 The blame for this falls on the rising prices of flagships – the UK, Germany and the Nordics, the countries with the highest Average Selling Price (ASP), suffered the sharpest declines. Countries with lower ASP, ones that focus on mid-rangers (e.g. Spain and Italy), saw shipments grow.
Smartphones in the $200-$350 price range grew 20% in Western Europe. The analysts note that $300 bought you a significantly better mid-ranger in 2018 than it did in 2017.
The winners of this shift towards affordable devices are brands like Huawei and Xiaomi. Huawei in particular posted an impressive 54% growth year over year and is now very close to Apple. The US is trying to push out Chinese makers, which also caused them to invest more in Europe.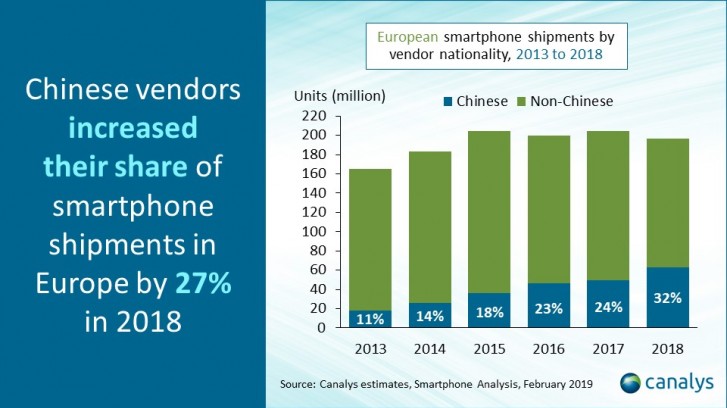 Samsung and Apple retained their leading positions in the market, though both lost ground.
HMD Global – home to the reborn Nokia phones – is in the Top 5 in Europe, however its 2.4% market share leaves it well behind the 4th placed Xiaomi.
O
That makes sense considering the ridiculous price inflation of non Chinese brand flagships. They used to cost 1/3 of my monthly pay, now they cost more than I earn in as much as I earn in a month with the S10+ and future flagships costing more than I...
D
Considering 90% of all commenters on English speaking blogs like these are swearing by brands like "Nokia" and Sony, it's always extremely surprising to see they're in the 1% or "other" tier.
a
I guess as a european I must be part of this statistics... And it's not just the price. I've been a loyal samsung customer and still think their amoled screens are the best. But I can no longer buy their flagships (the last one was Galaxy Note 4) ...